By Maram Kayed – Jul 29,2020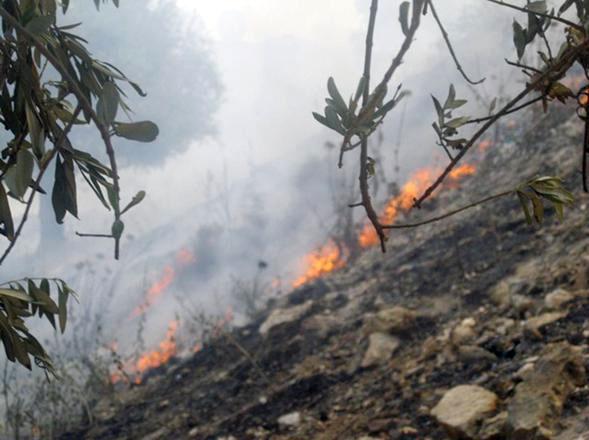 More than 600 forest fires broke out in Ajloun this year, official figures from the Civil Defence Directorate showed (Petra file photo)
AMMAN — More than 600 forest fires broke out in Ajloun this year, official figures from the Civil Defence Directorate showed.
The fires affected more than 11,000 dunums, resulted in the death of a civil firefighter and the injury of eight others, according to the figures.
At the same time, the number of trespassing violations reached 41 cases.
In Ajloun, some 70 kilometres northwest of Amman, forest areas cover 134,000 dunums, while the number of forest rangers stand at 50.
The head of the training department at the Ajloun Civil Defence Directorate Mohammad Ayasrah attributed the causes of forest fires to trespassers, unintentional fires caused by cigarette butts, child neglect and the use of fires to cover up other violations such as fights.
The governorate's Civil Defence Directorate has four fire engines, two motorcycles, eight supply tanks and 155 fire extinguishers.
Until July 22 of this year, the directorate had dealt with 617 fires, which covered 11,287 dunums of owned land and forests, Ayasrah told The Jordan Times.
According to statistics provided by the Ajloun Agricultural Directorate, more than 1,000 dunnums were afforested as part of the National Afforestation Project, Ministry of Agriculture Spokesperson Lawrence Majali told The Jordan Times over the phone.
"During the past year, 300 investment permits were granted, and forest land seizures decreased to 41 cases compared with 241 cases in 2015 due to increased penalties," he added.
Majali noted that the National Afforestation Project started in 2019 in the Rajab region with an 80 per cent completion rated, covering 12,000 dunums.
The Civil Defence Directorate said that its administration is a "strategic partner with the relevant departments in the police and the ministries of environment, agriculture, health, water, education".
"Preserving the environment from pollution, protecting them from fires, shredding, overgrasing are the responsibility of everyone, starting from citizens to responsible government bodies," he added.
http://www.jordantimes.com/news/local/ajloun-witnessed-more-600-forest-fires-2020-%E2%80%94-official-data