By Bahaa Al Deen Al Nawas – Jul 14,2020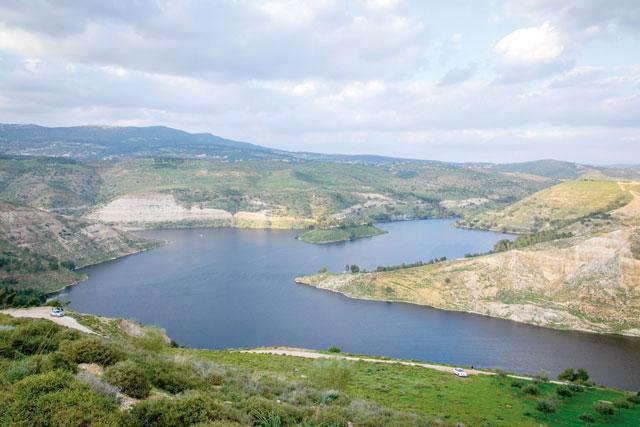 An aerial view of the King Talal Dam near Jerash (JT file photo)
AMMAN — There are 2.4 billion people around the world with no access to safe and available water at home, and 4.5 billion who lack proper sanitation, according to a report published by The Telegraph newspaper in the UK on Friday.
The report, published by Jordan Kelly-Linden under the title "COVID-19 dries up hopes of ending global water poverty by 2030, campaigners warn", sheds light on the increasing water insecurity under the pandemic, rendering the sustainable development goal (SDG) of the UN to deliver safe water and sanitation for all by 2030 off track.
The report quotes campaigners as saying that the COVID-19 pandemic has stalled efforts to improve hygiene standards around the world, "just when access to safe water is needed most".
The outbreak requires proper water and sanitation, and washing hands to maintain hygiene, according to the report, which adds that "more than 297,000 children less than five years die due to diarrhoea linked to inadequate wash facilities every year".
"Poor sanitation and contaminated water are also linked to transmission of diseases such as cholera, dysentery, hepatitis A, and typhoid," the report adds.
"The water sector in Jordan has been able to provide water for all since the beginning of the coronavirus crisis, especially potable, clean and safe water that matches the highest international standards," Assistant Secretary General and Spokesperson at the Water Ministry Omar Salameh told The Jordan Times on Monday.
Jordan has been working on securing water for all as per the UN's SDG 6 on water and sanitation for all, Salameh said, noting that work focused on sustainable provision of water to citizens and refugees.
Salameh also said that the water sector has dealt with sanitation water through proper management and using sterilisation to prevent the transmission of the virus.
The ministry has also been working on utilising rainfall through expanding the capacity of dams, he concluded.
The UN's SDG 6 aims to provide access to safe and affordable drinking water, universally and equitably, no later than 2030, the report says, quoting International coordinator at End Water Poverty Al Hassan Adam as saying: "Yet with just a decade to go and COVID-19 only complicating the issue, these basic human rights are not being met."
http://www.jordantimes.com/news/local/jordan-track-secure-water-all-uns-sdg-6-%E2%80%94-official