Founders of green projects seek to raise awareness about environmental issues
By Claudia Lacave – Jan 23,2021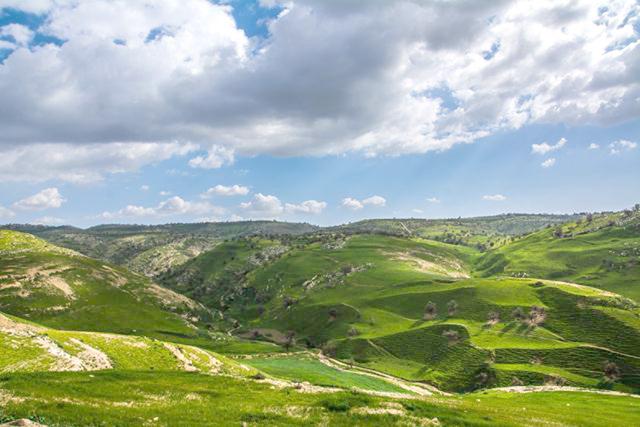 Heeding the global calls for conserving the environment, a group of Jordanians and foreign residents in the Kingdom have joined the environmental protection bandwagon with their own individual initiatives and projects (JT file photo)
AMMAN — Heeding the global calls for conserving the environment, a group of Jordanians and foreign residents in the Kingdom have joined the environmental protection bandwagon with their own individual initiatives and projects.
From recycling plastic to launching innovative businesses and eco-friendly companies, the founders of these green projects shared their passion and vision with The Jordan Times.
Glass bottles
Architects Ahmad Rasas and Rusul Marie founded the platform Aware.jo in January 2019 to raise awareness on plastic pollution.
"Aware is a platform where we raise awareness mainly about plastic pollution and especially single use plastic. We sell glass bottles to encourage people to reduce plastic and we believe that when you have your reusable bottle all the time with you, it encourages you to drink more water," Rasas said.
Reusable shopping bags
Jenna Barboush was still in high school when she decided to make her own product and avail it to the market in 2019 with the aim of fighting the overflow of plastic bags.
"Since I was a child, wherever we travel my mum would buy reusable shopping bags. I wanted to raise awareness about what my mum did, so I designed and created a set of reusable bags," Barboush said.
Produced near Irbid, the first 60 sets were sold out in one year and she's now looking to extend her customer base. Sensitised about environmental issues by her parents and the international social movements against climate change, she decided to pursue environmental studies with a focus on political applications.
Colour book for children
Well aware of pressing environmental issues, 15-year-old Nadine Alkalid made a colour book as part of her high school project.
"I was always interested in environmentalism and I also really like art. So I thought a good way to link these passions would be to make a colour book," said Alkalid.
Proceeds from the colour book sales, published this autumn, will go to environmental organisations like the World Wide Fund for Nature (WWF) and the Forest Fund, she said.
Reusable steel straw
Bandar Fanous founded Qasheh, an online business in September 2019 with the aim of reducing the environmental impact in the hospitality sector by supplying stainless steel reusable straws into the Jordanian market.
"I was scrolling through Instagram and I came up on a video about how the turtles are affected by plastic and straws. I started to read more and I realised that this situation is the biggest problem that I have ever thought of," Fanous said.
Remarkably, Fanous came up with the new product amid the pandemic. Qasheh is also planning to offer consultant services to restaurants and coffee houses on lowering their CO2 emissions, he said.
Flushable toilet seat cover
Poor hygiene in some public toilets prompted Lana Karrain, a Jordanian mother, to launch Loo Skins to supply the local market with flushable toilet seat covers.
"The toilet cover seats in the market are not very practical. They don't really cover and they slip. So I thought of something better and I figured it has to be something that is easily flushed or dissolved," Karrain said.
The flushable toilet cover seat she imagined is made of water-soluble film produced from polyvinyl alcohol, a biodegradable synthetic polymer.
Reusable menstruation pads
Maria Hazan, a Pakistani national in Jordan, launched AlcmeneJo, to fight the waste of conventional disposable menstruation pads.
In 2019, with the help of the CEWAS business incubator, she started creating pads of comfortable design and non-irritating material that is a good absorbent. This material is not available in the region and therefore is currently being imported from China.
"My bigger education came from my work on disasters and disaster management. Disasters have been happening for ever but they are now more intense because of climate change," Hazan said.
Plastic bottle caps recycling
Raida Sabha founded Green Wheelz to support children with disabilities and their families from proceeds of her project, which recycles plastic bottle caps and aluminum cans. Green Wheelz sells the recycling material to Jordanian recycling centres.
"When you collect the plastic caps and recycle them you help the environment and children with disabilities, you bring awareness and cultural transformation and at the same time you support the local economy," Sabha said.
Ecobags
Kati Mihyar, from Estonia, founded Malfouf ecobags in 2017.
"I have a background in environmental studies and I thought I had to make something", Mihyar said.
Since 2017, she has been sewing bags from non-used mesh of local factories and has made 700 products so far.
Mihyar is also offering play tents for children and clothes from upcycled materials.
Organic skin
care products
Amina Mango founded an organic product line for skin care in 2000.
"I started it for my family because I wanted to move away from chemicals and use natural products for my kids. And I couldn't find any on the market," Mango said.
It is the first Jordanian organic product certified by the EU in 2015, she said.
Mango opened her first retail store in Amman and in the process to set up another in the UAE.
Sustainable project to support women
Tom Whitehead, a UK national, launched the Shantet Sabaya project for upcycling plastic in Jordan.
"We are trying to empower women through sustainable projects. The women community of Talbieh refugee camp are trained to recycle plastic bags and billboards from different stakeholders," he said.
Whitehead started production in 2019 in collaboration with the Amman Design Week.
More than 1000 bags have been made by Shantet Sabaya and Whitehead hopes to build a recycling hub in Jordan from this project.
"We are trying to encourage people to rethink our relationship with plastic and make it more circular," Whitehead said.
http://www.jordantimes.com/news/local/greener-future-jordanians-expats-put-environmentalism-heart-their-businesses