Water loss in Amman reached 55 per cent, says ministry spokesperson
By Maria Weldali – Mar 31,2021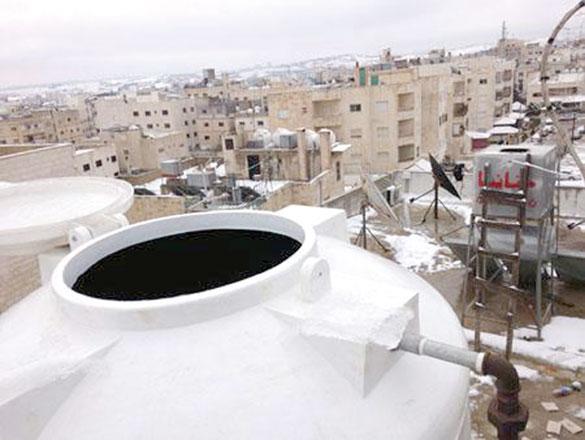 Water loss in the Kingdom has reached 48 per cent, 60 per cent in a number of governorates and 38 per cent in Amman, according to Minister of Water and Irrigation Mohammad Najjar (JT file photo)
AMMAN — Water loss in the Kingdom has reached 48 per cent, 60 per cent in a number of governorates and 38 per cent in Amman, according to Minister of Water and Irrigation Mohammad Najjar.
Najjar's remarks came during a meeting headed by Senator Mazen Saket held to assess the situation of the Kingdom's water sector.
One of the most significant challenges facing the sector is the administrative challenge, considering that "structure is part of the process of management improvement in the sector", according to the minister.
The minister said that groundwater extraction requires significant amount of energy and costs, which led to using surface water.
Water Ministry Spokesperson Omar Salameh told The Jordan Times on Tuesday that the ministry continuously works to improve the quality of its services provided to all citizens across the Kingdom, through entrenching corporate systems, in order to improve performance levels.
"It is known that water resources in Jordan are limited, but the country's water budget is low, therefore the sector is in need of large-scale investments and development plans," according to Salameh.
"Aiming at cutting water losses, the ministry has implemented and proposed several strategic projects across the Kingdom, has maintained water distribution systems in many areas and has developed equipment for leak detection, in addition to employing modern water meters," he added.
The spokesperson noted that the ministry has launched a campaign in 2013-2014, to maintain control over water resources and to reduce the loss of water, adding that the campaign has brought significant results.
"Water loss in Amman reached 55 per cent, but with consistent efforts by the ministry and other relevant entities now it is 38 per cent," he said.
The Jordan Water Company Miyahuna's website defines water loss as the amount of water that is pumped into water distribution systems, but does not reach consumers due to water leakages from broken pipes, the inefficiency of water meters or because of water theft by irresponsible persons, therefore no payment is received.
Regarding the desalination of Red Sea water, Salameh noted that it is among the most needed projects and "has become an urgent requirement for providing Jordan with an abundance of water".
The per capita share of water in the Kingdom is less than 100 cubic metres per year, while water consumption during the recent time increased by 10 per cent, according to Salameh who added that "what has further complicated the water shortage problem are both the pandemic and the Syrian refugee influxes".
https://www.jordantimes.com/news/local/kingdoms-water-loss-stands-48