May 31,2021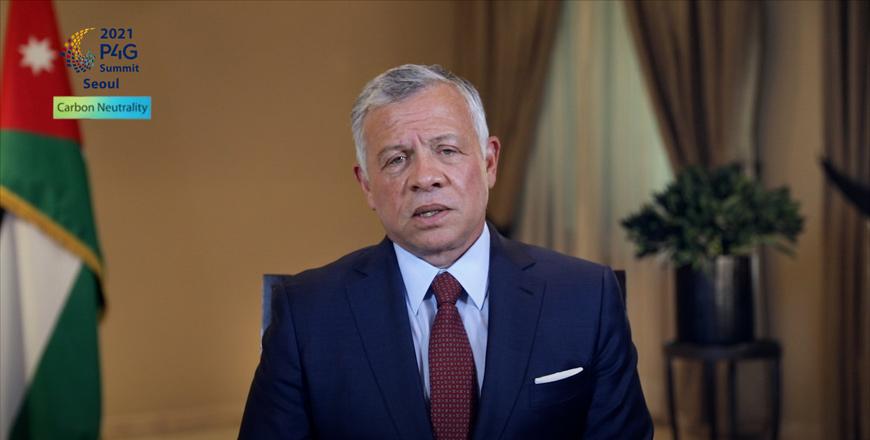 His Majesty King Abdullah speaks during virtual Partnering for Green Growth and the Global Goals 2030 summit on Sunday (Photo courtesy of Royal Court)
AMMAN — His Majesty King Abdullah on Sunday participated in the virtual P4G summit, organised by South Korea.
The Partnering for Green Growth and the Global Goals 2030 summit, which extends over two days with the participation of over 60 heads of state and government, as well as representatives of international organisations, seeks to mobilise green investments and to encourage building partnerships that push towards realising climate-related Sustainable Development Goals (SDGs).
In his remarks, the King noted the impact climate change has had on Jordan and the challenge of water scarcity, as well as transforming aspects of the country's ecosystem, stressing that the threat of climate change in one country affects all countries around the globe, according to a Royal Court statement.
His Majesty added that it is a collective responsibility to make sure that planet stays a sustainable and vibrant home for all creatures.
His Majesty described the impact of climate change as a "painful reality, explaining that it has unrecognisably transformed parts of Jordan's landscape and ecosystem."Dead Sea water levels have been shrinking at an average rate of 1 metre per year."
"We have one of the lowest levels of water availability per capita in the world. Diminishing aquifers and low rain accumulation are pressing concerns, as we continue to share the little water we have with millions of refugees."
Fully aware of the existential magnitude of climate change, the King noted that Jordan has recently launched a National Green Growth Action Plan focused on green recovery from COVID-19, with measures to upscale energy efficiency, strengthen our resilience and adaptation in water and agriculture, and mainstream climate change in our local development planning, the statement said.
"The King also noted that Jordan has made strides adopting climate-smart public private partnership frameworks in partnership with key international environmental agreements, including the Paris Agreement, the Montreal Protocol, and the Rio Conventions.
"However, these agreements mean nothing without tangible progress in implementation to advance environmental stewardship for future generations, and provide international support for nations on the frontlines of climate change."
The King noted that investments' success should no longer be measured merely through financial gain but through environmental benefits and sustainability.
"The threat of climate change is not the problem of one country or region alone. A drought in California, a flood in Kenya, or a wildfire in Australia; they all reverberate across the planet to threaten our very existence … It is our collective responsibility to make sure it stays that way, a sustainable, vibrant home for all."
The summit aims at providing an opportunity for building market-based partnerships among the private, public and civil society sectors, to work towards fulfilling the SDGs and the Paris Agreement.
https://www.jordantimes.com/news/local/king-delivers-remarks-p4g-climate-change-summit