By Saeb Rawashdeh – Sep 20,2021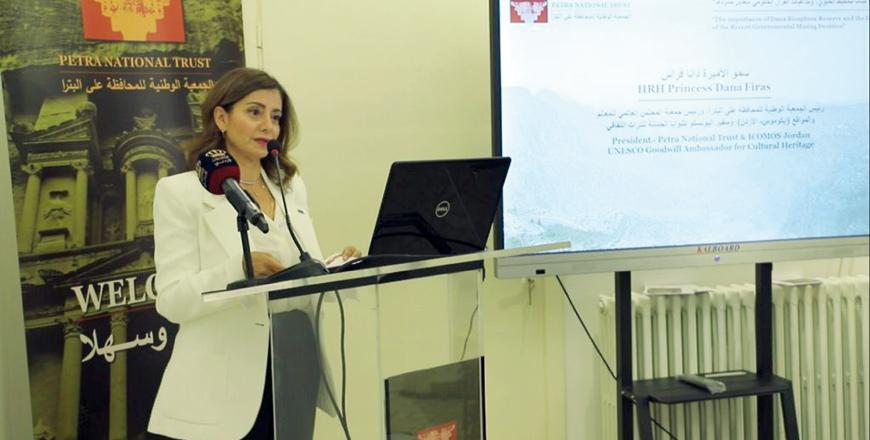 HRH Princess Dana Firas speaks during a public discussion titled 'The Importance of Dana Biosphere Reserve and the Implications of the Recent Government Mining Decision' on Wednesday (Photo courtesy of Petra National Trust)
AMMAN — HRH Princess Dana Firas said that government's decision to mine copper in Dana Biosphere Reserve is "very concerning on many levels".
The princess' remarks came during a public discussion on Wednesday titled "The Importance of Dana Biosphere Reserve and the Implications of the Recent Government Mining Decision", organised by the Petra National Trust.
"Our heritage defines who we are, it defines how we interact with each other, what is our relationship with our community, what is our relationship to our land, it defines our national character," said Princess Dana.
The panel gathered local stakeholders, experts and the concerned public at the Cultural Hub-Bayt Yaish in Jabal Luweibdeh.
"It is not an issue of money versus nature, not in any way, it is an issue where strategically we want to be. Do we want to bring long term, sustainable, viable jobs or we want short-term profit," Princess Dana said.
Emphasising the interconnectedness between cultural heritage, ecology and local community, UNESCO Representative to Jordan Min Jeong Kim said that it is necessary to balance the sustainable development and the protection of Dana Biosphere Reserve.
Dureid Mahasneh from the Royal Society for the Conservation of Nature said: "This is not a money-making issue, but a political and socioeconomic issue."
"We must stand up and stop it," said Mahasneh, referring to the plan to mine copper in Dana Biosphere Reserve.
He also highlighted the amount of water necessary for the processes that involve extraction of copper.
However, Mohammad Najjar from the International Council for Monuments and Sites said that the Feynan area and the Timna Valley have been known since ancient times as a centre for copper production.
Najjar noted that copper has not been exploited for the last 700 years.
"If the exploitation of copper occurred, the whole area would be polluted and lot's of heritage sites and spices would be destroyed forever," Najjar said.
https://www.jordantimes.com/news/local/public-discussion-debates-copper-mining-dana-biosphere-reserve