Local cadres to work in Kingdom's oil exploration process — Kharabsheh
By JT – Dec 01,2021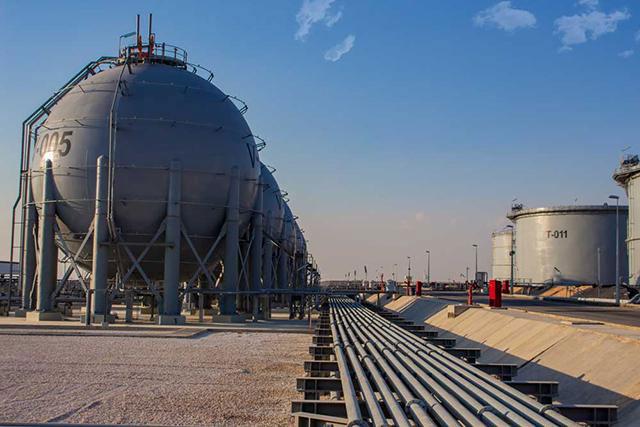 A view of the Amman Strategic Reserves Terminal for Petroleum Products at Al Madouneh (Photo courtesy of Jordan Oil Terminals Company)
AMMAN — The Ministry of Energy and Mineral Resources will rely on local cadres for the kingdom's oil and gas exploration, while international companies will process and analyse the available data, Energy Minister Saleh Kharabsheh said on Wednesday.
In a ministry statement, Kharabsheh highlighted the availability of databases that include two- and three-dimensional seismic surveys of a number of regions; previously processed with unsophisticated software.
He added that translating these surveys into information could help with oil and gas exploration.
The ministry has identified targeted spots and lines for 3D seismic surveys, he said, adding that specialised international companies will be consulted to reprocess this data to access more information about the sites of 1,930 linear kilometres.
The available data on Al Sarhan and Al Jafr is being processed by the National Petroleum Company in cooperation with an international company, Kharabsheh said, noting that the initial indicators are good and will be supported by the drilling process, which will begin in February.
Stressing that the ministry will intensify exploration activities over the next two years, Kharabsheh expressed the ministry's keenness to receive any investor with technical and financial capacity.
https://www.jordantimes.com/news/local/local-cadres-work-kingdoms-oil-exploration-process-%E2%80%94-kharabsheh
---
Jordan imports 9,700 barrels of Iraq's crude oil daily — Kharabsheh
By JT – Nov 30,2021
AMMAN — The Kingdom's imports of Iraqi oil between September 9 and November 26 totalled 840,000 barrels with a daily average of 9,700, Energy and Mineral Resources Minister Saleh Kharabsheh said on Monday.
Kharabsheh added that Jordan imports a daily average of 10,000 oil barrels from the Baiji refinery in Iraq, located some 830 kilometres away from the Jordanian-Iraqi borders, constituting some 7 per cent of the Kingdom's daily needs, according to a ministry statement.
The minister added that both countries recently agreed on preparing the T1 station in Al Qaim district in Al Anbar Governorate, which is 435 kilometres away from the border, to be accredited as a loading station for oil due to its adjacency to the border, noting that Iraq has not yet informed the Kingdom on the readiness of this station.
Jordan imports Iraqi crude oil under a memorandum of understanding both countries signed in 2008 and is annually renewed, but was suspended for security reasons during late 2013 due to the closure of the Turaibil border crossing for security reasons.
The ministry contacted the Iraqi side in 2017 to reactivate the memo, which came into force again in early 2019.
Iraqi oil is currently imported based on a memo signed in early 2021, under which Jordan buys Iraqi crude oil with a rate $16 lower than the international price of Brent crude oil to cover the cost difference at standards set by the Kingdom.
https://www.jordantimes.com/news/local/jordan-imports-9700-barrels-iraqs-crude-oil-daily-%E2%80%94-kharabsheh