by Rayya Al Muheisen – Dec 02,2021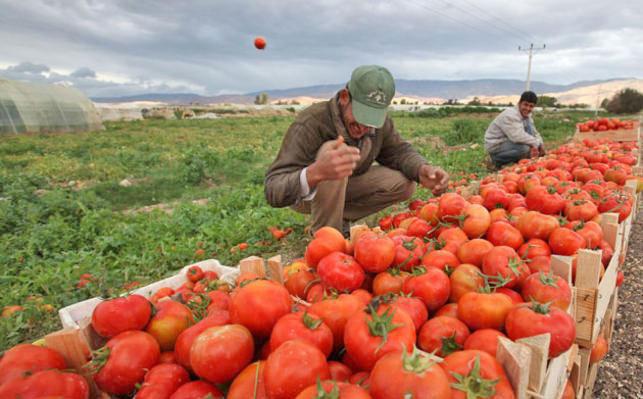 Vegetable prices have marked a huge increase during the past month, compared with the prices recorded during 2020, according to the Department of Statistics' data (Petra photo)
AMMAN — Water scarcity and increasing workforce expenses are some of the major challenges Jordanian farmers are facing, according to sector representatives.
"Mafraq is the largest agricultural producer in the Kingdom. Mafraq farmers are challenged by the emerging labour laws," Mafraq governorate's Commerce Representative Abdullah Shdefat said during a meeting attended by The Jordan Times.
He noted that linking foreign work permits with the Social Security Corporation (SSC) and the obligatory health insurance has put extra weight on the farmers' shoulders.
Vegetable prices have marked a huge increase during the past month, compared with the prices recorded during 2020, according to the Department of Statistics' (DoS) most recent data.
Bell peppers have witnessed a 193.9 per cent price increase, while watermelon prices have increased by 156.7 per cent, carrot prices by 88.5 per cent, tomato prices by 68.6 per cent and lettuce prices have increased by 44 per cent, according to the DoS.
Zuhair Jweihan, a vegetable exporter, told The Jordan Times that tomato produce has decreased by over 50 per cent during the past three years. Jweihan noted that last year's extreme weather conditions put Jordan Valley farmers in difficult financial positions.
Jweihan continued that the "number one issue for farmers is new government mandates and regulations".
Farmers do not produce as they used to, therefore, they do not need the same number of workers, Jweihan noted.
Thaer Rawajfeh, Wadi Araba Farmers' Representative, told The Jordan Times that water scarcity is one of the top challenges farmers face.
Most of the crops planted in Wadi Araba need a lot of water to grow, Rawajfeh stated.
However, water expenses have become very high for farmers and therefore farmers are withdrawing from the market, Rawajfeh concluded.
https://www.jordantimes.com/news/local/water-scarcity-increasing-expenses-add-farmers%E2%80%99-mounting-challenges