By Batool Ghaith – Jun 19,2022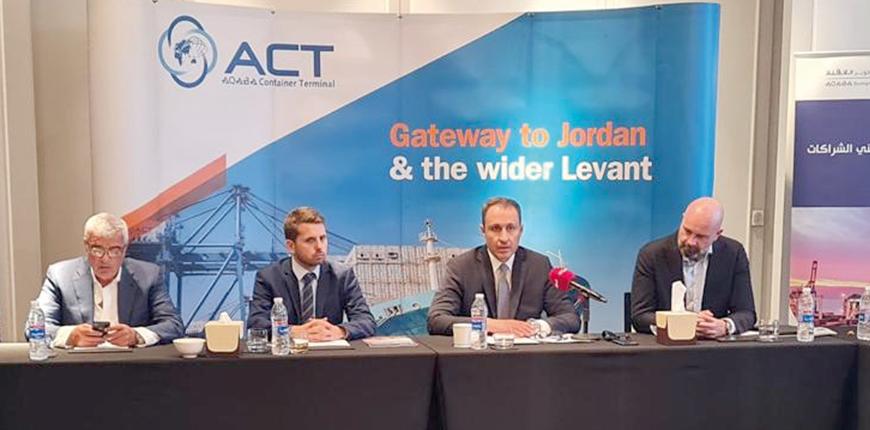 Speakers during a roundtable discussion in Amman with a focus on decarbonisation efforts of Aqaba Container Terminal in Amman on Sunday (Photo courtesy of ACT)
AMMAN — Aqaba Container Terminal (ACT) announced on Sunday ambitious decarbonisation targets and a detailed roadmap it will follow to reach its net-zero goals by 2040. This includes the reduction of greenhouse gas emissions by 70 per cent by 2030.
The announcement came during a roundtable discussion in Amman, in which Regional Head of APM Terminals David Skov said that APM Terminals are making "major leaps" to achieve carbon-neutral operations in all terminals globally, including the creation of a specialised business segment that is fully dedicated to the issue of decarbonisation.
"We are taking a very early step in Aqaba, which will be a key differentiator for all terminals in the world," Skov said.
He noted that ACT and APM are the first companies in the shipping industry to take this step in the region towards decarbonisation.
According to Skov, the decarbonisation project requires more than $50 million increment investments and it consists of three main steps.
The first step is optimising energy consumption across terminal operations by implementing best practice and upgrading technology. Second, is to phase out non-renewable energy use, ACT electrify equipment and conduct necessary civil works. The third step is to ensure the viability of the project by expanding its access to renewable energy and securing a local supply of clean energy optimising energy consumption, replacing vehicles with electrical ones and ensuring that all electricity used is from renewable resources, Skov said.
"We are committed to establish ACT as a sustainable gateway to the Levant region," he said.
The project will create jobs in the private sector, according to Skov.
"We will be working with local suppliers to help us expand our onsite solar production of the facility, as well as generating the power stations, which will create great job opportunities for Jordanians," he said.
"ACT is a role-model for public-private partnerships in Jordan. The strong collaboration and long relations between APM Terminals, ADC and ASEZA in enabling Jordanian importers and exporters to integrate with the world through ACT will continue to be expanded as we collaborate to deliver on our sustainable vision for Aqaba," said Hussein Al Safadi, regional head of APM Terminals in Africa and Middle East and the CEO of the Aqaba Development Corporation (ADC).
Safadi emphasised the importance of immediately developing plans, strategies and policies for climate change and the environment, which will have an impact on the global ports' shipping and logistics systems.
"We aim for the ACT to be proactive in this field at the global and regional levels and to increase global competitiveness," he added.
He noted that ACT has already started working on converting many systems to be environmentally friendly in order to reduce carbon emissions and prepare the port to be ready in the next few years to receive any ships that use green energy on hydrogen or electric ships.
"We are working on having Aqaba as a competing global, regional, logistics centre, as it is the main economic provider for the Kingdom," Safadi said.
Safadi added that ACT is also working on opening new shipping lines with all countries from Aqaba, which will reflect on the volume of trade exchange.
"We are proud of the work done and will provide all necessary support to make sure it succeeds to ensure we leave behind a sustainable planet for the next generation," he said.
https://www.jordantimes.com/news/local/aqaba-container-terminal-charts-course-towards-decarbonisation