By Rayya Al Muheisen – Jun 26,2022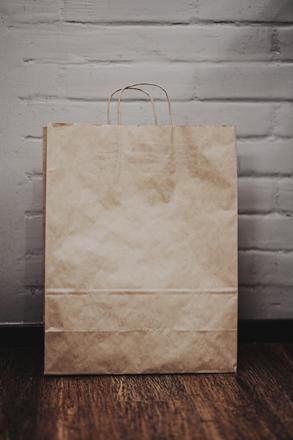 Representative image (Photo courtesy of unsplash.com/Dmitry Mashkin)
AMMAN — The Ministry of Environment encouraged local retailers to replace plastic bags with paper bags, but some retailers said that the cost of paper bags is "unbearable".
Abu Tarek, who owns a supermarket in Amman, said that he will not replace plastic bags with paper bags anytime soon.
"I can barely handle the cost of plastic bags," Abu Tarek said.
He added that supermarkets do not have a high profit margin. "I can't be paying five hundred fils for each customer's shopping bag," Tarek said.
Grocery bags have to be durable to carry heavy objects, he said.
"If I replace my plastic bags with paper, I will have to pay even more than five hundred fils for a durable bag," Tarek said, adding that many shoppers who visit his supermarket already bring their own shopping bags.
Salem Akleh, who also owns a supermarket in Amman, stated that switching to paper bags was not his focus and he is rather "concerned with maximising my profit".
Akleh added that in order to put food on his table, he has to cut down on his supermarket's expenses as much as he can.
"I definitely favour plastic bags over paper," he said.
However, Baian Odeh, a marketing expert, said that reusable shopping bags could be a "great alternative for customers".
Reusable bags are more durable than plastic or paper bags and they can be reused over the course of many years, he said.
"Many companies have started to sell reusable bags with designs on them, making them better looking and more fashionable, while at the same time building the brand," Odeh said.
Others noted the high costs of paper bags, versus plastic bags. Madleen, a salesperson at one of Jordan's plastic bag factories, told The Jordan Times that there is "no comparison" between the cost of plastic bags and the cost of paper bags, saying that a kilo, or a minimum of two hundred plastic bags, is only sold for JD1.25.
Abdallah Freeweh, a salesperson at a packaging solutions company, noted that one plastic bag sells for approximately five fils, while a small, plain paper bag sells for 250 fils.
He noted that his company also sells recycled plastic bags as well, and the price of recycled plastic and virgin plastic is the same.
Ameer Jawabreh, owner of a paper bag factory, also said that the cost of importing paper is high. "Paper has to be processed, handles for shopping bags have to be added as well for the bag to be used for shopping," he said.
https://www.jordantimes.com/news/local/shift-paper-bags-comes-price-say-shopkeepers