Dam levels reach 13.5%, says Water Ministry
By Mays Ibrahim Mustafa – Dec 26,2022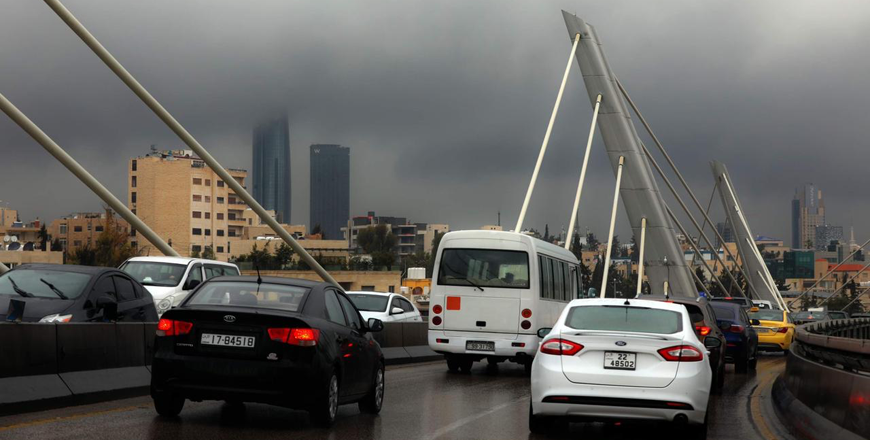 Rain clouds are seen over West Amman on Monday (Photo by Osama Aqarbeh)
AMMAN — This year's rainfall levels have so far been well below their seasonal average, according to the Jordan Meteorological Department (JMD).
Isam Yacoub, a weather forecaster at the JMD, described this year's rainfall as "humble", despite the recent weather depression.
"However, it's still too early to judge the rainy season," he told The Jordan Times.
Last Thursday marked the winter solstice and the start of marbaniyeh in Jordan, the 40 coldest days of winter, according to Yacoub.
He noted that the total rainfall during this period amounts for 30 per cent of Jordan's annual rain average.
The period between November and the marbaniyeh makes up 25 per cent of the season's rainfall, while the remaining 45 per cent are accounted for during the period between February and May, Ahmad Al Tayyar, also a forecaster at JMD, told the Jordan Times.
Tayyar agreed that this year's precipitation is below average in most areas, except for Jordan's southern regions, which witnessed far-above-normal rainfall levels.
According to a JMD weather bulletin issued on Monday, rainfall in Jordan's southern regions reached 192 per cent of the assumed cumulative of 15.2mm; Maan recorded 286 per cent of 11.6mm, while Al Qatrana recorded 142 per cent of 24.6mm and Al Jafar recorded 209 per cent of 9.4mm.
The statistics were issued by the JMD after a weather depression brought heavy rainfall to various regions across Jordan, starting from Sunday evening and throughout the day on Monday.
While rain is often a welcome sight for farmers, they have been plagued by feelings of "uncertainty" during this season which was marked by a state of irregularity with a repeated pattern of long drought periods followed by short-term heavy rainfall, said President of the Jordanian Farmers Union Mahmoud Oran.
"Too much rain can also prove disastrous for farmers, as it can cause floods which destroy crops and lead to topsoil loss," he told The Jordan Times.
Oran added that timing, consistency and levels of rainfall are "critical determinants" of agricultural outcomes.
He also pointed out that farmers only benefit from this type of short-term heavy rainfall through water harvesting to meet their irrigation needs all year long and not just during winter.
He stressed the importance of enacting legislations that enhance and facilitate water harvesting in both residential and agricultural areas to address the kingdom's water crisis.
Jordan's dams currently hold only 13.5 per cent or around 37 million cubic metres of their capacity of 280 million cubic metres, Water Ministry Spokesperson Omar Salameh told the Jordan Times.
Cold and partly cloudy conditions will persist on Tuesday, with a chance of scattered showers in the southern and eastern parts of the Kingdom. On Wednesday, a slight rise in temperature is forecast, with clouds at low altitudes and moderate northwesterly winds, the Jordan News Agency, Petra, reported, citing the JMD.
https://www.jordantimes.com/news/local/rainfall-jordan-falls-short-seasonal-average-%E2%80%94-jmd