Jennifer Bell, Al Arabiya English 21 January ,2023
The United Arab Emirates' President Sheikh Mohamed bin Zayed has declared 2023 the "Year of Sustainability" ahead of the country's staging of the COP28 climate summit.
In a post online, the UAE president said that by hosting COP28 – which aims to reduce emissions responsible for global warming and deal with the consequences of climate change, in line with the 2015 Paris Agreement – the nation will keep supporting innovation in the sustainability sector.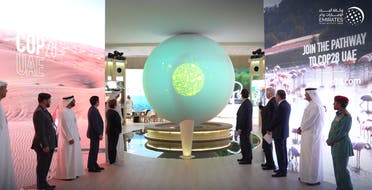 "2023 is the Year of Sustainability in the UAE," said Sheikh Mohamed."Effective climate action requires a shared vision and collective will."
"As host of COP28, we are committed to fulfilling our role as a global convener and will continue to support action and innovation in the field of sustainability."
COP28 President-designate and the UAE's special envoy on climate change Dr Sultan al-Jaber said on Friday that the declaration reflects the UAE's commitment to promote sustainability.
"The UAE has long maintained that the principles of sustainability must be incorporated into every sector of the economy," he said in a statement.
"The country's commitment to sustainability was led by its founding father, Sheikh Zayed bin Sultan Al Nahyan, and this commitment remains a guiding light for the current leadership."
The 'Year of Sustainability' will culminate in COP28, the annual successor to COP27 in Egypt last year, which will take place at Expo City Dubai from November 30 to December 12.
Earlier this month, Dr al-Jaber said this year's talks must be a 'COP of action' saying the world is "way off track" achieving the climate goals laid out under the 2015 Paris Agreement.
In his first speech since being given the head role of this year's climate talks, al-Jaber said COP28 must be an inclusive, action-oriented approach to transform systems and accelerate trajectories in the fight against climate change
Dr al-Jaber cited the vision of the UAE's president as being instrumental to the country's regional and global leadership in climate action and its role as a global advocate for clean energy.
"Over the last 15 years, the UAE has invested a total of $50 billion in renewable energy and clean tech globally and plans to invest another $50 billion in the years ahead."
"We want COP28 to transform systems and accelerate 2030 trajectories through game-changing partnerships, solutions, and outcomes. We want it to be a COP of Solidarity that bridges the Global North and South, and includes public and private sectors, scientists and civil society, women and youth."
Read more:
World 'way off track' of climate goals: UAE's President-designate of COP28
https://english.alarabiya.net/News/gulf/2023/01/21/UAE-President-declares-2023-the-Year-of-Sustainability-ahead-of-COP28