By Mays Ibrahim Mustafa – Feb 21,2023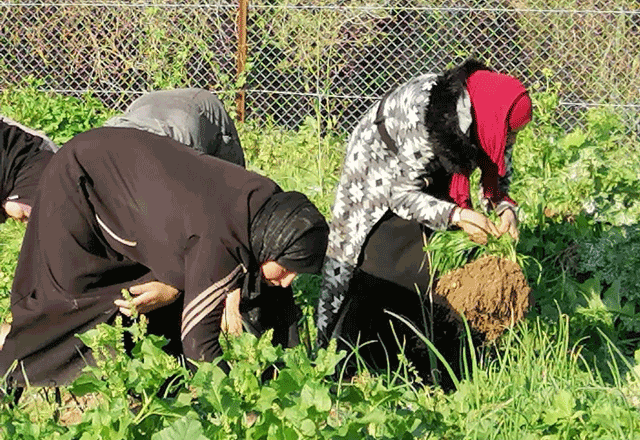 Seventy per cent of farmers in the northern Jordan Valley are women, according to the founder of 'Sustainable Agriculture Association' Waleed Al Qeshawi (Photo courtesy of Waleed Al Qeshawi)
AMMAN — Faced by water shortages and rising energy costs, a group of farmers in the northern Jordan Valley has joined forces to promote sustainable agriculture.
The group's efforts spring from a shared belief that economically viable and environmentally friendly practices are essential to improving livelihoods and enhancing food security.
The group operates under the name "Sustainable Agriculture Association", and was founded in 2019 by Waleed Al Qeshawi. The 56-year-old, who comes from a long line of farmers, said that the association's work is focused on "supporting the growth and development of local communities in the northern Jordan Valley through enabling farmers", who make up roughly 50 per cent of the area's population.
In an interview with The Jordan Times, Qeshawi noted that the association, driven by the UN Sustainable Development Goals, aims to focus its future plans towards implementing renewable energy projects as well as upgrading irrigation systems to ensure more efficient use of limited water resources.
The association also submitted a proposal to the Ministry of Agriculture for a water harvesting project, prepared in cooperation with the International Centre for Agricultural Research in the Dry Areas (ICARDA), which helped identify viable sites.
However, costs remain a hindrance to farmers' transition towards reliance on alternative energy sources, according to Qeshawi.
"Times are tough and most farmers are in debt," he said, noting that installing a solar energy system to cover the needs of one farm would cost no less than JD10,000.
Over 90 per cent of farmers rely on electricity to operate their irrigation systems, with monthly bills ranging between JD150 and JD450 a month, depending on the size of the farm and the location of the water source, Qeshawi added.
Spikes in fodder prices over the past two years have also placed additional burdens on livestock farmers, who are struggling to remain profitable, he noted.
In cooperation with WADI for Sustainable Ecosystems Development and ICARDA, the association helped over six livestock farmers plant saltbushes, a species of fodder shrub locally known as "qataf".
Qeshawi said that the association is committed to assisting any farmer interested in taking a similar step, using seedlings provided by WADI and by constantly following up on the project to ensure its sustainability.
"This will help farmers cover a large portion of their fodder needs and save up thousands [of JDs] in the long run," he added.
The association hopes to collaborate with the Agriculture Ministry in the future to allocate and invest in state-owned land for livestock grazing to cover the needs of farmers in the area, he continued.
Eight farmers have benefited from a project implemented by the association, in cooperation with the National Agricultural Research Centre, to plant tropical trees, including mangos, avocados and guavas, in the northern Jordan Valley, according to Qeshawi.
The group's other activities include facilitating storage, transport and marketing services for farmers as well as organising courses and guidance workshops, and ensuring access to the medications and fertilisers needed to counter agricultural diseases and pests, in cooperation with the concerned governmental institutions as well as local and international organisations, according to Qeshawi.
Moreover, the group works on networking, connecting farmers with skilled labour, protecting the rights of workers in the agricultural sector and mediating conflicts that may arise between workers and farmers, or among farmers themselves, he said.
"We also managed to build our own information base, documenting soil types and agricultural patterns in all parts in the northern Jordan Valley to help farmers decide on the best and most viable plants to grow," he added.
The veteran farmer also stressed that empowering women through training and employment projects related to food production is one of the association's "key priorities", as 70 per cent of farmers in the northern Jordan Valley are women.
https://jordantimes.com/news/local/northern-jordan-valley-farmers-unite-promote-sustainable-agriculture