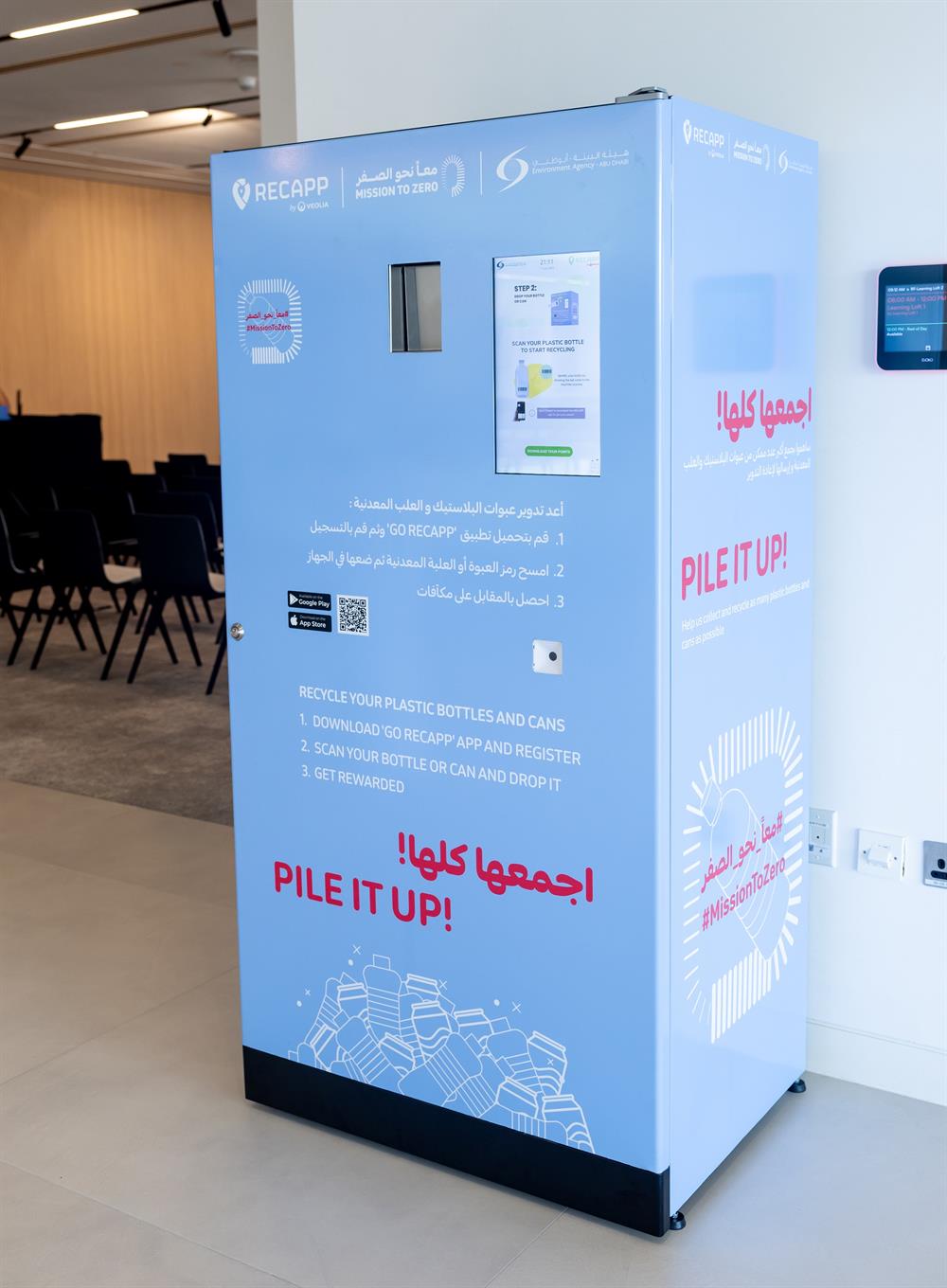 The Environment Agency –Abu Dhabi (EAD), in collaboration with key stakeholders, has set the ambitious target of collecting 20 million single-use plastic bottles a year for recycling. This will be achieved, in part, by installing 70 Reverse Vending Machines (RVMs) and 26 Smart Bins in areas with high footfall in the emirate of Abu Dhabi such as the Corniche, Abu Dhabi Airport, sports venues, and malls, as well as academic institutions.
The new bottle return scheme is under the umbrella of EAD's Mission to Zero public outreach campaign that aspires for the target of zero plastic, zero waste, zero emissions and zero harm to biodiversity, which was launched last year as part of the Single-Use Plastic Policy.
Recently, EAD revealed that more than 172 million single-use plastic grocery bags have been prevented from harming the environment after the ban was proclaimed on June 1st 2022. Within one year, 450,000 single-use plastic bags were being saved each day and retailers logged a dramatic reduction of between 90 to 95 per cent in the numbers of plastic bags used. This is real progress, as for each hundred bags consumed at retailers' cash counters prior to the ban, today only five bags – all reusable – are being taken by consumers.
Mission to Zero was composed of a very visually appealing outdoor campaign on buses, bridges and lamp posts and a series of public activations such as workshops, an intensive SMS campaign in four languages, and a heavy social media campaign.
It also included baqala tours done by youth to educate them on the harms of single-use plastic, a school 'Pile It Up Campaign,' which involved a competition between schools as to who could gather the largest number of single-use plastic bottles for recycling, a government BAADR challenge on which government entity reduced the most single-use plastic items and the installation of 'Big Zeros' in prime locations in Abu Dhabi where single-use plastic bottles could be placed and then taken for recycling.
http://www.afedmag.com/english/NewsDetails.aspx?id=6778