3/8/2023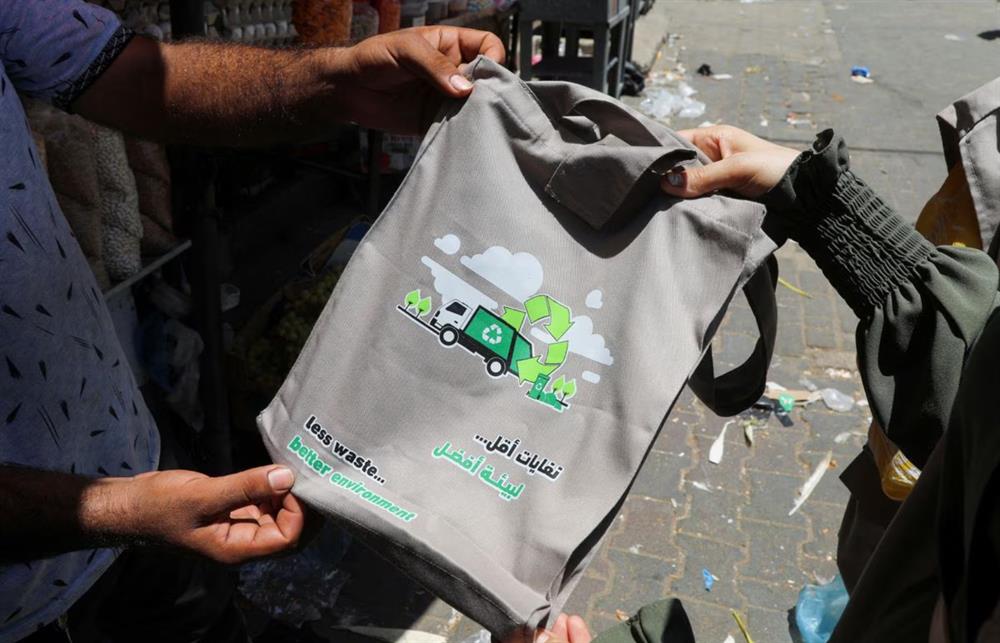 The "Replace It" campaign in Gaza is distributing bags made of cloth to encourage residents avoid using plastic totes, which can end up in the sea or littering the streets.
Under the project, funded by Japan International Cooperation Agency (JICA), young Palestinian women and men tour the streets, educate passersby and store owners about the dangers of the excessive use of plastic to the environment, and offer them cloth bags to use instead.
The scheme wants to raise awareness about alternatives to the rolls of free, single-use bags that line the aisles of Gaza's produce markets. Customers can end up with dozens of them at the end of a single shopping trip.
Azhar Tanboura, of the local Joint Services Council for Solid Waste Management, which oversees the project, said the Gaza Strip produced 200 tonnes of solid waste a day, 16 percent of which is plastic.
"The environment cannot accommodate plastic waste as it is non-biodegradable," Tanboura said.
The cloth bags carry the words "Less waste, better environment", in Arabic and in English.
Plastic bags end up on the streets or on beaches where they find their way into the ocean. At one market in Jabaliya refugee camp in northern Gaza, where the campaigners visited, plastic bags were strewn across the ground.
"Plastic bags, as you know, block the sewage during rain. Their presence also leads to environmental pollution. You can find discarded bags all over the streets," Salwa Radwan, a shopper at the market, said. (Reuters)
PHOTO: Palestinian team distribute bags made of cloth to urge residents to avoid the use of plastic bags, which are in extreme use in the enclave, and educate them of the risks as a step in a new environment-friendly campaign in Gaza called "Replace It" which is a new no-plastic campaign, in Gaza City July 23, 2023.
CREDIT: REUTERS/Arafat Barbakh/File Photo.
http://www.afedmag.com/english/NewsDetails.aspx?id=6854