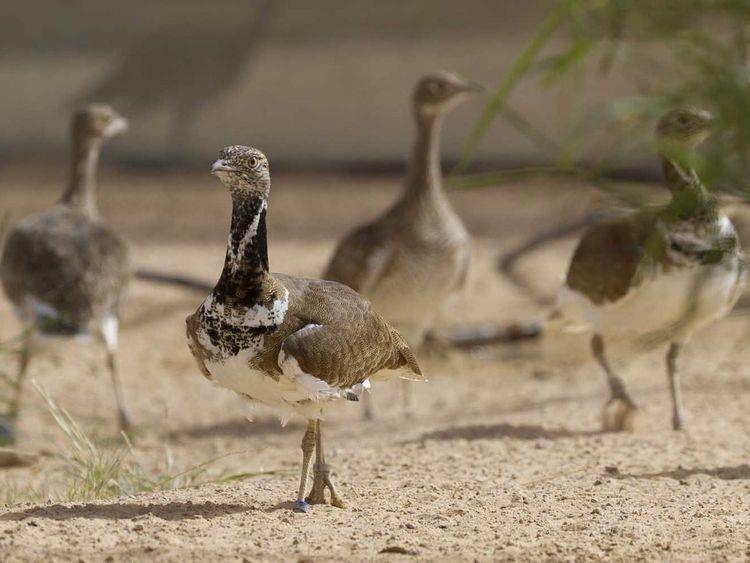 Plans are underway to develop a robot houbara to gain unprecedented access to the bird and study its behaviour up-close.
It follows an agreement between the International Fund for Houbara Conservation (IFHC) and Khalifa University of Science and Technology, based in Abu Dhabi. The agreement was signed at the Abu Dhabi International Hunting and Equestrian Exhibition (ADIHEX), which ended on Saturday.
The agreement will focus on robotics through the development of a houbara robot, which will help in ecological study on-site and will assist in gathering information of wild houbara species in their natural environment. The houbara robot will also be used to study behaviours such as mating with the goal of collecting semen from wild male houbaras to enhance the genetic diversity in the captive breeding programme.
The agreement will also focus on scientific research and training including robotics, intelligent systems, genetics and genomics in breeding projects. It will also aim to provide training opportunities for students and drive employment for qualified national talent in technical and scientific roles at IFHC.
As part of the partnership, another agreement will underline the use of intelligent systems through the development of computational models to analyse data related to bird positioning, vegetation categorisation, individual bird detection and distance tracking, camera traps footage analysis and analysis of images of captive-bred birds.
This collaboration will accelerate the research objectives of the fund and provide valuable insights into various aspects of the lives of houbara bustards and their natural habitat. The research agreement with Khalifa University will see robotics being utilised to help conduct behavioural studies of the houbara birds.
This partnership will allow the fund to leverage the research expertise and capabilities of Khalifa University, enhancing the role of universities as prominent national research institutions in advancing the objectives of this distinctive global model for conserving endangered species. (Gulf News)
http://www.afedmag.com/english/NewsDetails.aspx?id=6994