By Mays Ibrahim Mustafa – Oct 13,2023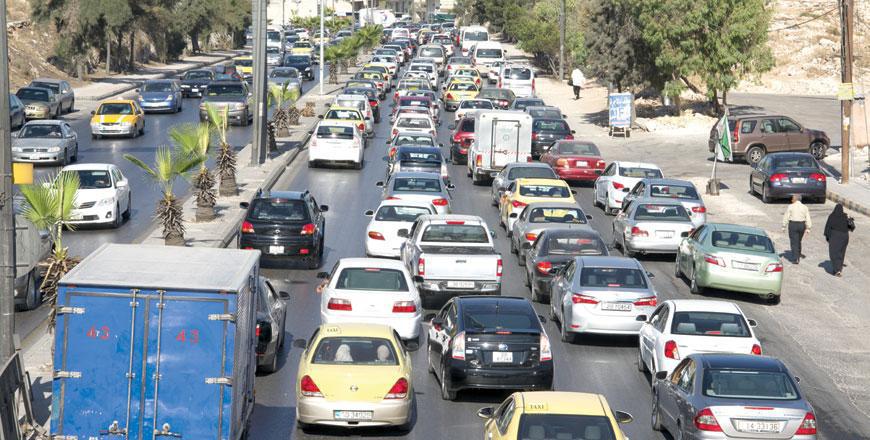 AMMAN — Emissions resulting from human activities, especially in transport, manufacturing and energy sectors, which burn fossil fuels, as well as dust storms and airborne pollutants, have taken a toll on air quality in the Kingdom, according to the annual air quality monitoring report issued by the Ministry of Environment.
PM2.5 air pollutants, which are fine inhalable particles with diameters that are 2.5 micrometres or less, surpassed permitted levels during the year 2022 in Zarqa, Amman and Irbid, the report said.
The report stated that the annual average for permitted PM2.5 levels, according to the Jordanian standard, equals 15 microgrammes per cubic metre (µg/m3), while the daily average shouldn't exceed 35 µg/m3.
Its findings revealed that the annual average of PM2.5 pollutants in 2022 reached 30.7 µg/m3 in Amman, 26.1 µg/m3 in Irbid and 37.8 µg/m3 in Zarqa, while the average for all three governorates totalled 30.6 µg/m3.
The report also noted that the Tabarbour monitoring station in Amman recorded four irregularities in the daily levels for NO2, which shouldn't exceed 80 parts per billion (ppb). The report attributed this increase to the fact that the station falls on a main road with a high traffic density and is located near a bus terminal.
The annual average for nitrogen dioxide (NO2) levels was the highest in Amman, reaching 28 ppb, while the average for all governorates stood at 25.1 ppb, according to the report.
It stated that the daily levels of all pollutants complied with the Jordanian standard for ambient air quality by 96.4 per cent in 2022, compared with a compliance rate equal to 98.2 per cent in 2021.
It added that Carbon monoxide (CO), sulfur dioxide (SO2) and Ozone (O3) were all within permitted levels, as per the Jordanian standard for ambient air quality.
Air quality indicators
The report showed that the average rate of days with "good" air quality in Amman, Zarqa and Irbid in 2022 reached 3.8 per cent, while 72 per cent of days witnessed a moderate air quality.
An air quality that is unhealthy for sensitive groups was recorded in 18.2 per cent of days throughout the year 2022, on average in all three governorates, it stated.
Unhealthy air quality was detected in 5.2 per cent of days, while the air quality in 0.4 per cent, and 0.3 per cent of days was found to be very unhealthy and dangerous, respectively, according to the report.
https://www.jordantimes.com/news/local/air-quality-monitoring-report-cause-concern