"Today we strike in solidarity with Palestine and Gaza," Greta Thunberg posted. Her followers said they were "deeply hurt, shocked and disappointed."
By MAAYAN JAFFE-HOFFMAN OCTOBER 22, 2023
More than 100 Israeli environmental leaders and activists have sent a letter to Greta Thunberg after she posted a pro-Hamas thread on X, formerly known as Twitter.
"Today we strike in solidarity with Palestine and Gaza," Thunberg posted. "The world needs to speak up and call for an immediate ceasefire, justice and freedom for Palestinians and all civilians affected."
She posted it with a photo of herself holding a "Stand with Gaza" sign alongside three friends, each with a similar message. One sign read, "This Jew stands with Palestine."
The thread offered links to resources so people could donate and support Gaza. It also included a statement against antisemitism.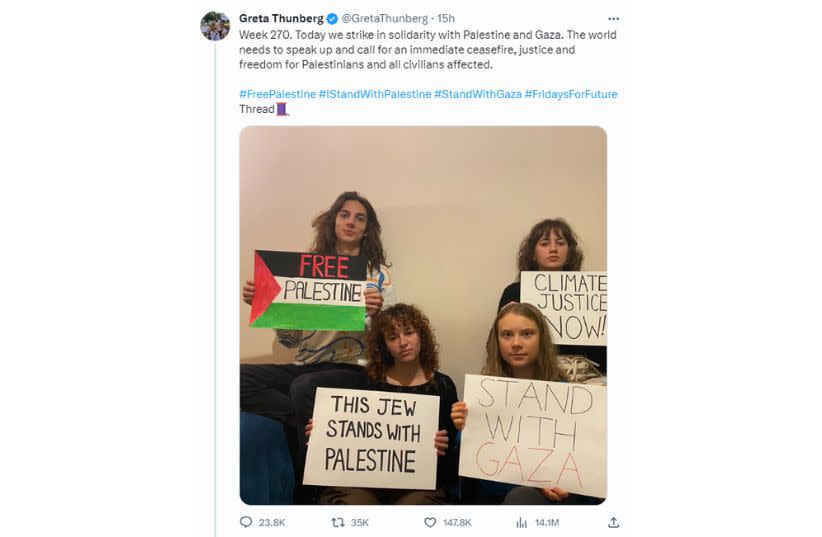 'Deeply hurt and shocked'
Thunberg catapulted to prominence in 2018 when she organized school walkouts to draw attention to the urgent need for action on climate change. From 2019 to 2020, she took a year off school to dedicate her efforts towards environmental activism, gaining widespread recognition for her dynamic addresses directed at global leaders. Her commitment to the cause made her an icon of the environmental movement.
But Israel's environmental leaders told her over the weekend that they are "deeply hurt, shocked and disappointed with your tweets and posts regarding Gaza, which are appallingly one-sided, ill-informed, superficial and are in complete contrast to your ability to deep dive into details and get to the bottom of complex issues."Advertisement
They accused Thunberg of "[taking] sides with terrorists, with the worst and darkest representatives of humans, and plainly – with the wrong side of history."
The letter was spearheaded by Rony Bruell, founder of the Israeli Forum of Women in the Environment. In just a few hours, Bruell captured more than 200 signatures from like-minded individuals nationwide, many in top roles at their institutions.
The document details how Hamas brutally murdered Israelis on October 7, including burning babies and their parents alive. It also highlights the people who are held hostage, including those with severe illnesses and special needs.
Specifically, they name their colleague, Dr. Shoshan Haran, founder and president of Fair Planet, a nonprofit organization that supports small farmers in developing countries. She and multiple family members have been missing since the massacre.
Haran spent time working in Africa helping poor people and refugees, many of them Muslim. In a fiery film produced by Haran's son, linked in the letter, he says, "My mother is also a citizen of Germany, but she is a citizen of the entire world. Please do me a small thing to help, save my family and share this video with everyone you know."
'Does any of this sound like a part of the fight for freedom?'
"Is this the way you imagine fighting for human rights? With cold-blooded killings of civilians, violent rape of women, and kidnapping of infants and the elderly?" the writers of the letter asked. "Does any of this sound like a part of the fight for freedom? Are you seriously standing with the people who hold a grandmother with her grandchildren?"
The writers urged Thunberg "to look again at the atrocities conducted by Hamas, to read the stories of those who are no longer with us, to look at the pictures of those held in captivity and learn more about the conflicts in our region.
"We expect you and your family will never have to run for your lives and lose sleep worrying for your loved ones, but if this ever happens, we promise not to side with your abusers," the letter concluded.
Dozens of others responded to Thunberg's post, including one environmentalist who said, "The environmental movement in Israel adores you and admires your amazing work. We are heartbroken by your one-sided support in the bleeding conflict."
Another surfer responded by posting a new hashtag: #GretasupportsISIS.
The official Israel Twitter account also reacted: "@GretaThunberg, Hamas doesn't use sustainable materials for their rockets which have BUTCHERED innocent Israelis. The victims of the Hamas massacre could have been your friends. Speak up."
https://www.jpost.com/environment-and-climate-change/article-769456