Aug 19,2020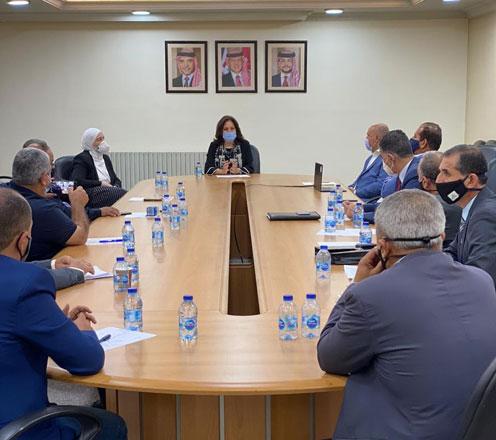 Energy Minister Hala Zawati speaks during a signing ceremony of agreements to finance the installation of solar heaters and cells in Amman on Tuesday (Photo courtesy of Energy Ministry)
AMMAN — The Ministry of Energy's Jordan Renewable Energy and Energy Efficiency Fund (JREEEF) on Tuesday signed agreements to finance the second phase of a cooperation programme with local associations to subsidise the installation of solar heaters and cells with 30 per cent of their costs.
Energy Minister Hala Zawati, who is also JREEEF chairperson, and representatives of six associations from various regions of the Kingdom signed the agreements in the presence of JREEEF Director Rasmi Hamzeh, according to a ministry statement.
The ministry allows beneficiaries to choose the implementing company and service providers, where local associations allow beneficiaries to pay in installments their 70 per cent share, while the fund offers a grant of 30 per cent to citizens.
Following the signing ceremony, Zawati said that the ministry, through associations, is keen to reach citizens across the country to provide them with clean energy through direct financial subsidy, lowering their power bills.
The minister also highlighted the "success" of the first phase of the project that witnessed the cooperation of 220 associations across the Kingdom, and the installation 26,000 solar heaters and 700 solar cell systems.
Hamzeh said that the renewable energy projects, implemented by the fund in cooperation with associations, target households to increase their dependency on renewable energy sources as a sustainable source of electricity and lower their power bills.
http://www.jordantimes.com/news/local/agreement-offers-30-subsidy-installing-solar-heaters-panels