Aug 16,2020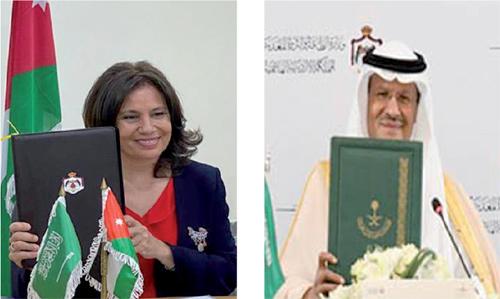 Energy Minister Hala Zawati and Saudi Energy Minister Prince Abdulaziz Bin Salman are seen during a signing ceremony of an agreement to connect power grids on Sunday (Petra photos)
AMMAN — Jordan and Saudi Arabia on Sunday signed a memorandum of understanding (MoU) to lay out the frame work of joint cooperation to connect the electric power grids of the two countries.
Energy Minister Hala Zawati and Saudi Energy Minister Prince Abdulaziz Bin Salman signed the agreement, according to a ministry statement.
Zawati, in statement followed the signing ceremony, highlighted the importance of the agreement, which is in accordance with the 2020-2030 comprehensive strategy for the energy sector.
"The agreement would make Jordan a regional hub for energy exchange, especially that the Jordanian-Saudi power grid connection would be the starting point of the comprehensive Arab electricity interconnectivity," read the statement.
Lauding the Jordanian-Saudi cooperation in the energy sector, Zawati said that the project enhances sustainable development as well as boosts the stability and reliability of electricity networks in both countries.
She also highlighted the feasibility of energy exchange as the two sides have different peak hours, according to the statement.
The Saudi energy minister said that the memo aims at enhancing the two countries ties, as well as optimising available opportunities to further the existing cooperation in various fields, including energy.
Highlighting the two countries keenness to deepen strategic relations, Prince Abdulaziz said that the two countries have launched the interconnection project accompanied by the establishment of an optical fibre line, which links the two countries' telecommunication networks to serve in this arena.
The agreement and the Saudi electricity interconnection plans are in line with Saudi Arabia's 2030 Vision, which focuses on utilising the strategic location of Saudi Arabia by making it a regional hub for energy cooperation, since the Saudi electricity network is the largest in the region, Prince Abdulaziz said.
http://www.jordantimes.com/news/local/jordan-saudi-arabia-ink-deal-connect-power-grids