Oct 13,2020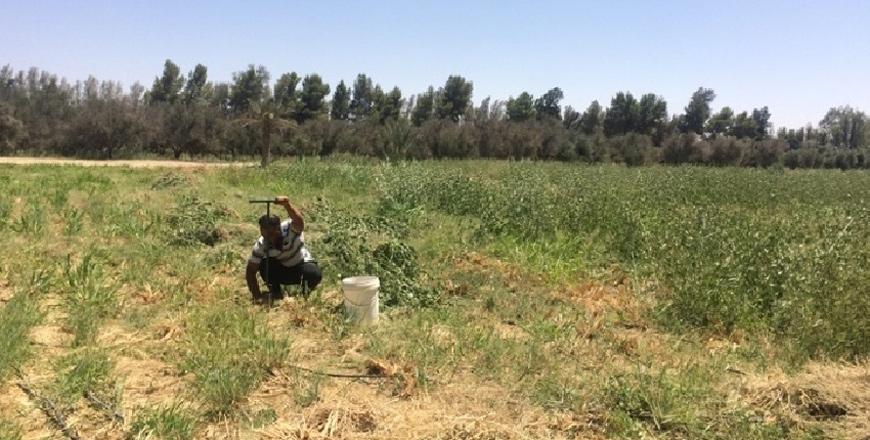 An Azraq farmer taking a soil sample after the implementation of the 'sustainable package solution' (Photo courtesy of MIRRA)
AMMAN — Azraq is a small town in northeastern Jordan characterised by hot, arid summers and cold, dry winters. Due to these climate conditions and a growing demand for water resources, farmers in the Azraq community face many challenges during their day-to-day work.
This includes environmental factors such as groundwater depletion and salinisation, soil salinisation and climate change, as well as experiencing a lack of awareness and extension support for the agricultural community.
These difficulties have led to many negative consequences, including a reduction in livestock production, increased desertification, and loss of wetlands in the area.
On April 1, 2019, Methods for Irrigation and Agriculture (MIRRA), in partnership with Rural Family Society (RFS) and High Atlas Foundation (HAF), started the project Realising Sustainable Agriculture in Azraq to tackle these challenges.
With funding from HAF and the US Department of State, and in local partnership with RFS, MIRRA developed an integrated sustainable packaged solution and capacity-building programme, which include specific modules on irrigation systems design and management, salinity management, sustainable agriculture, and advocacy training.
Additionally, MIRRA coordinated with two Azraq farmers, one of them being the only female farmer in the region, to implement the programme. The farmers were chosen in order to ensure equity and gender balance.
Their farms acted as the test and research sites of the sustainable package solution and will serve as a demonstration for other farmers in the region.
To move towards a more sustainable farming model, MIRRA first implemented drip irrigation systems with low pressure requirements, significantly reducing the amount of water and energy used in agriculture.
MIRRA provided an irrigation schedule based on crop, soil and water characteristics. In order to manage the high salinity in groundwater, MIRRA installed magnetic water devices, which assist in the overall reduction of salinity in water sources.
The two farms are currently operating well since the introduction of the sustainable farming practices. Based on literature reviews of local case studies, MIRRA is also cultivating salinity and drought-tolerant crop species, such as panicum to increase annual food production.
Through these efforts, MIRRA helped the two farms accomplish a 30-40 per cent reduction in electricity bills required for groundwater pumping.
Additionally, a 25 per cent reduction in water consumption was measured through the installed water flow meters.
In the upcoming reporting period, there will be more accurate estimates of electricity and water consumption reduction.
To better support the agricultural community, the project also equipped Azraq farmers with knowledge and training on sustainable agriculture practices via two field-training days conducted at the demonstration farms.
Additionally, MIRRA compiled information from the field days and formulated training programme material that is currently being reproduced into manuals.
As part of the project, MIRRA launched a sustainable agriculture summer school, further contributing to the integrated education initiatives in the region. The fifteen selected participants are between 20 and 30-year old young adults from Azraq studying natural resources, environmental sciences, civil engineering, or agriculture.
During the 12-day training programme, they learned four crucial topics: Environmental advocacy, innovative technology, sustainable agriculture and solution development, through both theoretical and practical field activities.
To put their learning to use, the youth team successfully created three project proposals addressing environmental challenges in Azraq that will be presented in front of donors.
Finally, MIRRA is also producing and planning to publish a policy paper to help pave the way for a sustainable path for agriculture in dry lands.
In order to help educate a wide spectrum of audiences, three executive summaries of the produced policy paper will be shared with policy makers, farmers and young professionals during the closing ceremony of the initiative.
The paper will inform others on different collaborative measures to aid in tackling climate change, such as increasing water productivity, reducing irrigation water prices, and limiting groundwater depletion in highlands. Through these outreach efforts, local farmers will acquire the knowledge necessary for the proposed sustainable packaged solution and become better decision-makers. This empowers the agricultural community to resolve their current challenges and advocate for more sustainable efforts in the future.
Officially ending on September 30, 2020, Realising Sustainable Agriculture in Azraq involved an interdisciplinary approach towards solving the obstacles faced by Azraq's agricultural community.
To overcome the environmental challenges, MIRRA equipped local farms with drip irrigation systems, saline and drought tolerant crops, and magnetic water control devices.
Additionally, in order to ensure long-lasting impact, outreach programmes were initiated to empower the community in tackling these sustainability issues in the future.
More importantly, there are still many areas around the world currently facing the same difficulties as Azraq.
The solutions proposed in this project can be adapted elsewhere and advance the world towards a more sustainable future.
(MIRRA contributed this article to The Jordan Times)
http://www.jordantimes.com/news/local/mirra-project-plants-seeds-sustainable-agriculture-azraq-basin