Jordan needs to implement National Conveyance Project, says minister
By Batool Ghaith – Jul 03,2021 – Last updated at Jul 04,2021 121 2 googleplus1 0 0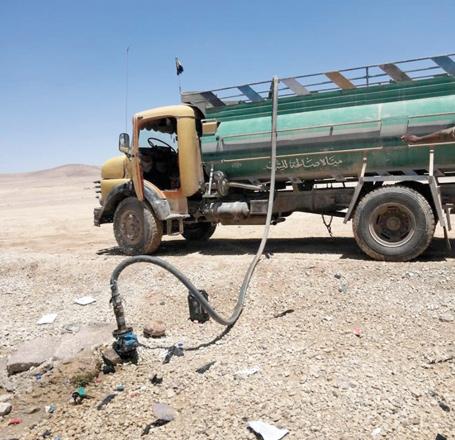 A truck, which authorities say was used to illegally pump water in Karak. The Water Ministry urged the public to report any illegal wells through the unified emergency number 117116 that receives complaints round the clock (Petra photo)
AMMAN — Jordan is depleting groundwater at an "alarming" rate, far exceeding the safe extraction limit, according to Water Ministry Spokesperson Omar Salameh.
Groundwater depletion is due to a lack of water sources, Salameh said. He noted that double the quantity of grounded water is currently consumed from the groundwater basin, which affects the basin's life and accelerates its salinisation.
"Groundwater basins must be preserved by halting or restricting consumption within the safe limits until the basin conditions improve with rainwater and other water sources," Salameh told The Jordan Times on Saturday.
Jordan needs to implement the National Conveyance Project, Water Minister Mohammad Al Najjar said in a statement.
The minister said that the water loss rates have been within reasonable limits despite the fact that this summer has been "exceptional".
The affected quantities of water did not exceed 8 per cent of the decreasing quantities of drinking water due to the decrease in the rainy season, the minister said in the statement.
Najjar said that more than 80 per cent of the water supply is derived from groundwater, which is rapidly depleting. The National Conveyance Project would ensure the preservation and improvement of groundwater.
Salemeh said that the project will provide 300 million cubic metres of water to all governorates, increase the water supply, and conserve the Kingdom's groundwater resources.
While the government implemented the Disi water project in 2009, its plans to ensure a continuous water supply to all areas changed due to the Syrian crisis and the arrival of over 1.5 million refugees, according to the Water Ministry statement sent to The Jordan Times on Saturday.
Salameh said that the National Conveyance Project was delayed due to the parties' disagreement, but now the first technical procedures and studies have been completed in support of the project.
The local private sector, banks and financial institutions are also interested in helping implement this vital project, according to Salameh.
The best five firms that qualified to participate in the project are likely to be named towards the end of July, and they will submit their bids in the middle of next year, 2022.
"The project is expensive, costing more than JD2 billion, as it requires extensive technical research and donor funding, but it will provide sustainable solutions for the water crisis," Salameh added.
The minister noted that the implementation of the project will start in the beginning of 2023-2026, adding that the ministry is undertaking a number of programmes to secure more water sources to improve water supply in all regions of the Kingdom, using a variety of sources.
https://www.jordantimes.com/news/local/jordan-depleting-groundwater-%E2%80%98alarming%E2%80%99-rate-%E2%80%94-official