Dec 04,2021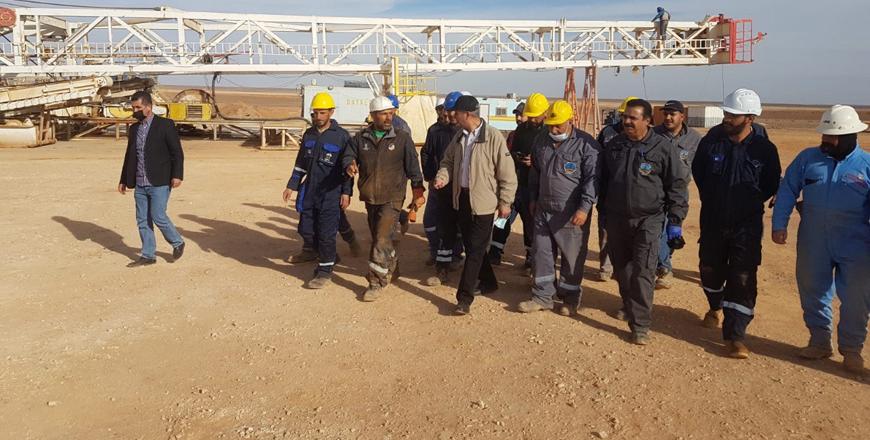 The ministry is working to bolster the national economy through integrating the Risha gas field and the phosphate exploration project, Kharabsheh announced on Saturday (Petra photo)
AMMAN — Minister of Energy and Mineral Resources Saleh Kharabsheh on Saturday announced that work during 2022 will focus on drilling six new wells in the Risha gas field, near the Iraqi-Jordanian border to raise the field's capacity to 50 million cubic feet per day, he noted.
The minister was briefed on the progress of work in a number of Risha gas field wells and the developments of the project implemented by the National Petroleum Company (NPC), according to the Jordan News Agency, Petra.
In regard to developments, the minister said that the production capacity of the Risha gas field increased from about eight million cubic feet per day in 2017 to about 30 million cubic feet.
He added that about 20 million cubic feet of gas is used to generate electricity at the Risha power station, while the rest is used to supply production sectors with gas.
The minister also launched a project to explore phosphate ore in Al Ruwaished District in Mafraq.
Kharabsheh said that the ministry is working to bolster the national economy through integrating the Risha gas field and the phosphate exploration project, which is a national project.
He described that preliminary result of phosphate exploration in the region as positive.
The minister added that work has begun in an area of ​​120 kilometres, out of 3000 kilometres, which will be explored successively, pointing out that the samples collected on Saturday will be analysed to obtain results, to be announced soon.
He said that the exploration takes place based on previous studies, most notably a 2012 study carried out by the Jordanian Geologists Association, during which nine wells were drilled. The wells found "economically hopeful thicknesses", Petra reported.
The current stage consists of determining the extensions and thicknesses of phosphate ore, as well as the percentage of phosphate concentration and other components suitable for use in various industries in the local market and for export purposes, in addition to determining the radioactive ratios accompanying the ore.
The minister praised the efforts of those working in the phosphate exploration project and the Risha gas field.
https://www.jordantimes.com/news/local/kharabsheh-announces-effort-drill-6-gas-wells-near-iraqi-border