28/2/2022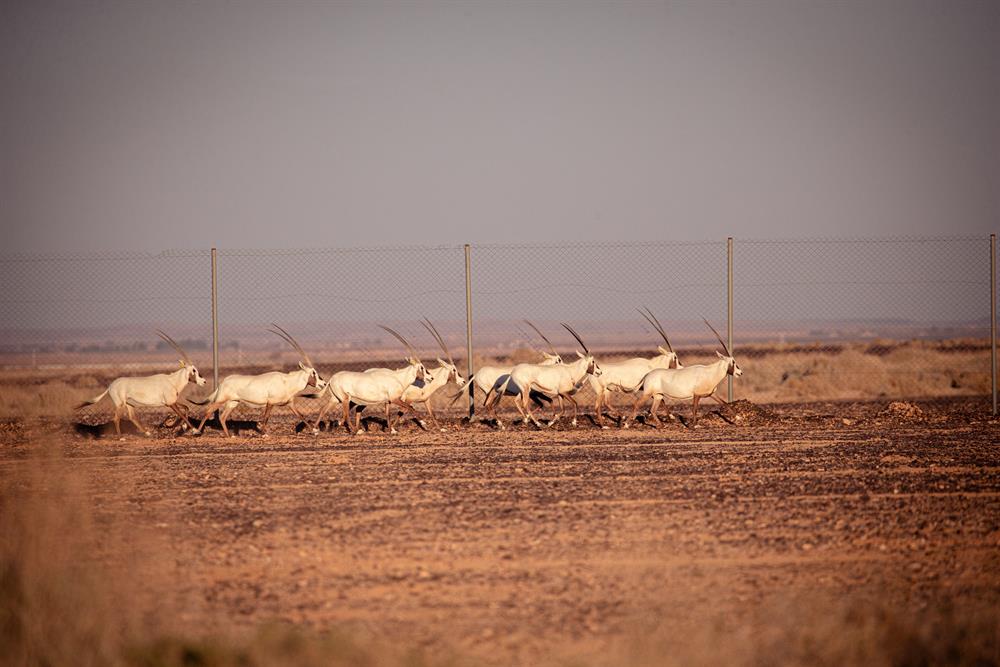 The Environment Agency-Abu Dhabi (EAD) recently completed a successful project in Jordan, transferring 20 Arabian Oryx to the Shumari Wildlife Reserve.
The Arabian Oryx release is part of a memorandum of understanding, signed between EAD and the Royal Society for the Conservation of Nature (RSCN), on a project to develop a vital herd of Arabian Oryx in the Shumari Wildlife Reserve in Jordan. The project, which is managed by EAD and implemented by RSCN, aimed to release 20 Arabian Oryx in the Shumari Wildlife Reserve, whilst ensuring their adaptation to the region's environment. Furthermore, the project strives to improve the genetic structure of the existing herd and reduce the possibility of genetic imbalances to create a lively herd and sustain suitable and sufficient pastoral areas for Arabian Oryx individuals.
The Shumari Wildlife Reserve will be expanded by rehabilitating land outside the reserve's boundaries to ensure that there are enough suitable new grazing sites for the Arabian Oryx. The project also intends to create a programme and an educational centre for school students to raise environmental awareness toward breeding and resettlement programmes, implement an eco-tourism programme to benefit from the Arabian Oryx breeding programme, and raise awareness among reserve visitors.
The Arabian Oryx release group was chosen to include a homogeneous and genetically diverse herd from the life department and facility at the EAD breeding group. The reserve's adaptation pens will continue to be veterinary monitored and the Oryx will be monitored post-release to ensure that they are in good condition, healthy, and capable of adapting well to their new surroundings.
This ambitious programme has contributed to strengthening efforts to protect the Arabian Oryx and increase its numbers in the wild, as well as changing the Arabian Oryx's status in the International Union for Conservation of Nature's (IUCN) Red List from "threatened" to "vulnerable" in 2011, a move considered one of the most significant achievements in the field of species reintroduction at the global level.
The programme has undertaken extensive breeding and reintroduction programmes, and so far, more than 1,000 Arabian Oryx have been released across the UAE, Oman and Jordan. Today, the Arabian Oryx Conservation Programme is considered as one of the world's most successful conservation programmes, which has helped increase the number of Arabian Oryx in the UAE to 10,000, with 5,000 currently located in Abu Dhabi, which is considered the largest group of Arabian Oryx in the world.
The Shumari Wildlife Reserve, located near the town of Azraq in Jordan, is 120 km east of the capital Amman. Established in 1975, with the support of RSCN and the World Wildlife Fund, the Reserve is the first nature reserve in Jordan. The reserve has witnessed the release of the Arabian Oryx and is a prime Arabian Oryx habitat.
http://www.afedmag.com/english/NewsDetails.aspx?id=5020