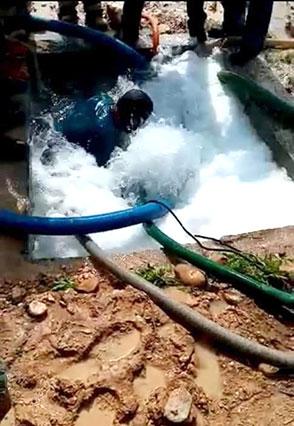 AMMAN — The Ministry of Water and the Jordan Water Company Miyahuna have detected a breach on the Zara Maeen water pipeline.
A ministry statement revealed that the ministry's staff in cooperation with security personnel detected an illegal fixture to a pipeline from a main carrier to supply farms and water tankers.
The ministry added that violators used to pump some 400 cubic metres of water per hour, which is allocated to areas in Amman.
Trying to remove the illegal fixture, the technical teams faced a water flow rate of 40 bars, which was seen a threat to their lives that led them to seek the Civil Defence Department's assistance, who provided a temporary fix on Tuesday.
Additionally, as part of the government campaign to fill up abandoned and unauthorized wells, the ministry's technical teams in cooperation with the Royal Department for Environment Protection and Tourism have filled up 10 wells in Al Azraq region, the statement added.
https://www.jordantimes.com/news/local/illegal-pipeline-fixture-detected-removed-%E2%80%94-water-ministry