Prince Hassan calls for trans-boundary water cooperation
By Hana Namrouqa – Feb 27,2022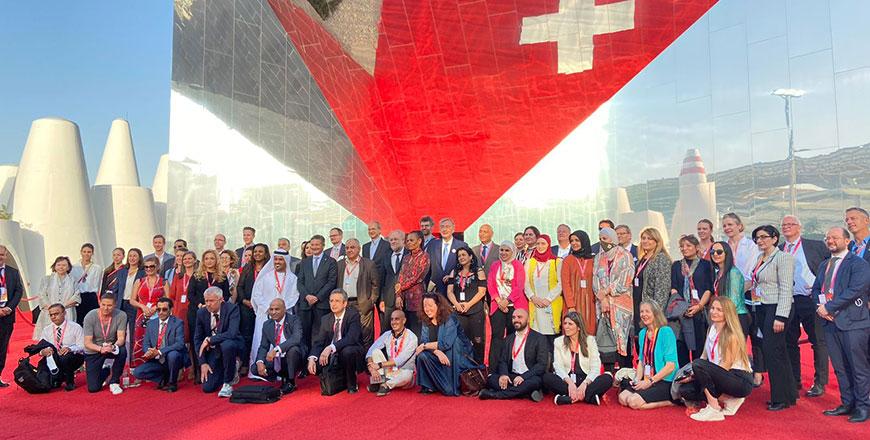 Guests pose for a group photo at the Swiss Pavilion at Expo 2020 Dubai on Saturday on the sidelines of the launch of the Blue Peace Initiative (Photo courtesy of Swiss Pavilion Twitter account)
DUBAI — Although the Middle East is one of the world's most water-strained areas, where fresh water dropped by two-thirds over the past four decades, the region continues to lack a regional mechanism that cements water diplomacy for a sustainable use of cross-border water resources.
Studies and projections draw a grim future for the Middle East's water reality, experts on water diplomacy warned, urging countries of the region to act fast to improve water cooperation. They indicated that as populations grow and the need for more water becomes urgent, climate change is worsening the situation.
As the world is facing an unprecedented global water crisis, it is important to utilise water management and water cooperation as catalysts for sustainable development and peace, particularly in the Middle East, they said.
They made their remarks at the launch of the "Blue Peace Days" at the Swiss Pavilion at the Expo 2020 Dubai on Saturday.
Blue Peace is an initiative focused on water cooperation across borders and sectors to foster peace, stability and sustainable development. The Swiss Agency for Development and Cooperation (SDC), which belongs to the Federal Department of Foreign Affairs (FDFA) of Switzerland, launched the Blue Peace Initiative in 2010 in response to growing tensions over water worldwide.
In a video keynote address at the opening of the event, HRH Prince Hassan indicated that the challenges facing water resources are not new and that global water needs have tripled over the past 50 years.
Prince Hassan, a co-founder of the Blue Peace Initiative who chairs its policy advisory committee, cited reports that 36 countries worldwide are facing extremely high levels of water stress. Sixteen countries of the 36 are in the Middle East and seven of the 16 are in the Levant.
The prince highlighted the importance of trans-boundary water cooperation and the need to intensify it with political commitment and concrete development projects that can make a real difference for vulnerable populations.
"Let us hope we talk in the future of blue, green peace action plans… adopting and applying water, food, energy nexus, data utilisation and knowledge transfer into a regional strategy for development. Cooperation is a must and synergy must be built," Prince Hassan said.
West Asia needs to "create a regional mechanism for water cooperation as proposed in the first Blue Peace report in 2011", he recommended.
The 2011 Blue Peace: Rethinking Middle East Water report redefines water in the Middle East as an instrument for cooperation and suggests 10 recommendations to achieve water security and regional peace. It suggested that water in the Middle East can be used as an opportunity for achieving peace and development rather than treated as a problem and a source of conflict.
The experts indicated that the fact that the majority of water resources in the Middle East are of a trans-boundary nature, including aquifers and surface water, highlights the need for a regional agreement that governs the quality and quantity of shared water resources. However, such a mechanism is still lacking, and experts described it as a "shortcoming".
Danilo Türk, diplomatic adviser to the Geneva Water Hub and former President of Slovenia, said that there is no comprehensive, equitable regional agreement governing water quantities and quality in the Middle East yet.
"This is a shortcoming that should be addressed in the region, where water stress levels are high," Türk said.
Water is increasingly either used as a weapon of war or more frequently as an object of attack, he said.
"The triple nexus approach combining development, humanitarian assistance and peacemaking is something we need to be aware of and we need to develop further. We need to sketch a new paradigm relating water use, water management and international water cooperation," Turk noted.
The Blue Peace Initiative maintains that any two countries engaged in active water cooperation do not go to war, highlighting the strong correlation between the degree of cooperation over water and the general atmosphere of peace and friendship between any two or more countries.
However, out of the 148 countries sharing water resources, 37 nations do not engage in cooperation over the management of water resources.
SDC director Patrizia Danzi said that Switzerland has a long history of promoting trans-boundary water cooperation and is committed to supporting countries in achieving sustainable access to clean water.
"Through the Blue Peace Initiative, Switzerland plays an active role as a mediator and offers countries its support to manage their shared water resources peacefully and sustainably and to reduce tensions between multiple water users, both nationally and internationally," she said at the event.
The launch of the event seeks to put the Blue Peace Initiative in the limelight within the Swiss Pavilion throughout the "water month". Located in an exhibition room on the pavilion's ground floor, an exhibit explains in an artistic way the challenges and opportunities related to trans-boundary water resources management.
Manuel Salchli, commissioner general Swiss Pavilion and chairman of the Steering Committee Expo 2020 Dubai, indicated that water is a key issue in the Middle East and North Africa region, where water scarcity is a severe, and in certain areas, life-threatening problem.
"Switzerland has long-standing experience and is at the forefront of water diplomacy. It is an opportunity to present our know-how in this field here in Dubai, in particular through the Blue Peace Initiative, which aims to prevent conflicts through equitable and efficient integrated water resource management," Salchli noted.
The experts indicated that trans-boundary water cooperation should expand and should include innovations, particularly as climate change is adding to the depletion and deterioration of water resources. They described cooperation on shared water resources as an "investment in peace and investment in human rights".
https://www.jordantimes.com/news/local/focus-water-cooperation-%E2%80%98blue-peace-days%E2%80%99-opens-expo-2020-dubai