Project Sea clears rubbish from Aqaba's reefs, which is recycled into bags by Palestinian refugees – a female-led scheme in a country where women must still fight for equality
by Annika Brohm in Aqaba and Amman. Photography by John Goodwin
Seascape: the state of our oceans is supported by theguardian.org
The yacht Diversity leaves the harbour of Aqaba, the only coastal town in Jordan. To the right is the Israeli resort of Eilat, framed by barren mountains; in the Red Sea, a boxfish makes leisurely circles in absurdly clear, turquoise water.
The boat soon anchors just offshore, directly in front of Aqaba's electricity plant, and suddenly everything happens quickly: the passengers don wetsuits, pass around gloves and cloth bags, and then, one by one, dive in. They all have one mission: to collect as much rubbish as possible in 30 minutes.
Led by 34-year-old Beisan AlSharif, these are the women of Project Sea – an initiative born two years ago when AlSharif, a keen diver, and her friend, Seif Al Madanat, began to collect rubbish every time they dived. It is now a community of more than 150 volunteers, with local women forming its heart.
"There's not one dive with a female participation of less than 50% – which is amazing for a Middle Eastern country like Jordan," says AlSharif.
Although Jordan is considered to be one of the more liberal countries in the region, the predominantly Muslim country still only ranks 126th out of 146 countries in the World Economic Forum's Global Gender Gap Index. Female economic participation is low and, in most of Jordanian society, women must conform to the traditional role model of wife and mother.
Clean-up dives are mentally challenging – trying to get all the trash out and eventually realising you can't. Hana Gammoh, diver
"Gender stereotypes and societal expectations do exist in Jordan and have influenced perceptions about certain activities, including diving," says Hana Gammoh, one of the divers.
"However, these stereotypes are evolving, and the notion of what women should do or are expected to do is becoming more inclusive and diverse."
Since her first clean-up dive, Gammoh says she has never received anything other than "constant support and enthusiasm from everyone around us".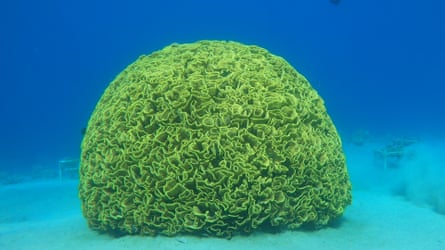 Together, the divers have removed more than seven tonnes of waste; most of it plastic, such as disposable cups, bottles and bags. Another group of women then benefits from recycling the waste – Palestinians living in the Jabal el-Hussein refugee camp, in the capital, Amman, who give a second life to the material by creating tote bags from it.
Bearing the logo of Project Sea, the blue-hued bags are sold on social media, during clean up-events and from the deck of the Diversity, providing the Palestinians with a much-needed source of income.
"The whole community has one unifying purpose," Gammoh says. "To get as much trash out of the Red Sea as possible and thus protect our unique reefs."
Unique they are. Not only is the Gulf of Aqaba home to 157 species of hard coral, 120 species of soft corals, 500 fish species and 1,000 mollusc species, but it is known as a "refuge" for coral reefs – one of the only places on Earth where the corals seem, so far, to survive coral bleaching.
"The corals off our coast are known to be able to withstand a temperature rise of five to six degrees," AlSharif says. "In other parts of the world, they already bleach out at an increase of 1 to 2 degrees."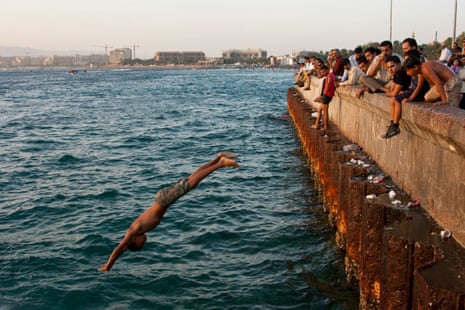 Studies have recently suggested the reefs here could survive the worst impacts of the climate crisis for another century or more.
A research team from the Transnational Red Sea Centre is trying to decode the DNA of the corals and organisms that live in symbiotic relationships with them, such as algae (which use carbon dioxide and other waste materials from their hosts, supplying oxygen and food in return).
If they understand the whole ecosystem, they say, they might be able to draw conclusions for other regions. For example, resistant corals with a certain genotype could be selected and bred on site.
But while the Red Sea corals can withstand higher temperatures, there are a host of other human-made threats. The population and infrastructure of the coastal region of Aqaba have grown rapidly in recent years, and with them the amount of plastic waste that ends up in the Red Sea.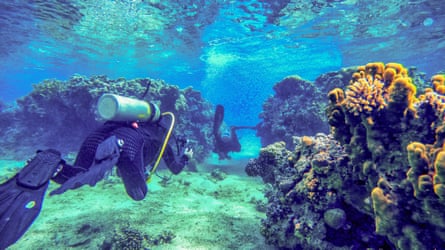 The consequences for the sensitive ecosystem can be devastating. Studies show plastic waste can carry numerous bacteria that can make corals sick, impairing growth or killing individual limbs. The plastic waste can also injure the tissue of the corals and thus cause infections.
AlSharif and her colleagues are painfully aware of this threat below the water, where clownfish and sardines swarm around the occasional striped lionfish, underwater beauties with highly venomous dorsal spines.
Today's dive site, known as "the Power Station", features larger and denser corals before there is a sharp drop-off, more than 100 metres deep, from which AlSharif shields the group as they gather yoghurt pots, drink cans and plastic bottles.
gender equality will eventually enhance environmental stewardship – and create a more equal and resilient future for all. Hana Gammoh
Gathering waste from corals is not as simple as it might seem. The divers must consider if they can free the corals from the rubbish without damaging their sensitive tissue, or whether they must leave it behind.
Nevertheless, after half an hour their cloth bags are filled to the brim and they emerge, somewhat frustrated.
"Clean-up dives are mentally really challenging," Gammoh says. "Seeing how polluted it is, trying to get all the trash out, and eventually realising you can't."
Later, they count more than 10,000 individual pieces of waste from just this one trip.
"With every single clean-up dive, we make an important contribution," says AlSharif, knowing full well that the corals will soon be littered with rubbish once again.
Project Sea aims to overcome this sisyphean task by framing the dives as part of a larger mission to create awareness, showing how everyone can contribute to environmental protection with small steps.
"We encourage everyone to recycle plastic waste and, in the best case, even make new products out of it," she says, referring to the Palestinian women making the tote bags.
AlSharif's own parents were born and raised in Palestine, she explains, as the call to Friday prayers resounds through the narrow alleyways of the Jabal el-Hussein camp, where the tote bags are made in a community centre she has been running for three years. The camp dates back to 1952, when it was set up for 8,000 Palestinian refugees; there are now four times as many inhabitants, with tents replaced by towering apartment blocks.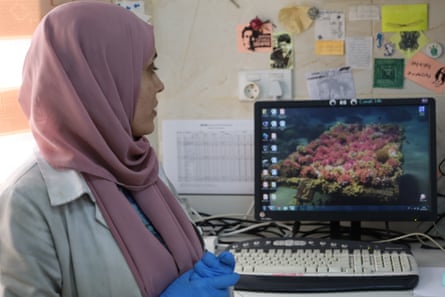 Almost 30% of the people in the camp live below the poverty line. Rubbish piles up in every corner; shattered furniture stands in front of the deteriorating buildings. There are alternating smells of rotting rubbish and the oil in which street vendors fry falafel.
Here, in one of the poorest areas of Amman, there is no sense of the female empowerment that surrounded the divers on the deck of the Diversity. The women of Jabal el-Hussein face a twofold disadvantage: outside the camp they experience discrimination because they are refugees. Within the camp and their family, they often have to conform to a narrow role model.
"There are so many societal rules within the camp – women are not supposed to work," AlSharif says. "We try to find ways for the women of the community to find a job, regardless of their status."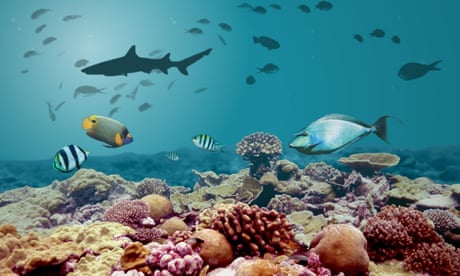 One of the women, Maysoon Abu Salem, desperately needed income to feed her two sons after separating from her husband. Today, she runs the vocational training programme at the community centre, teaching the women of Jabal el-Hussein how to press olives or sew the tote bags for Project Sea.
On the way, two positive steps are created at once: waste becomes reusable tote bags, and women such as Abu Salem can provide for their children's education. "Promoting gender equality will eventually enhance environmental stewardship – and create a more equal and resilient future for all," Gammoh says.
https://www.theguardian.com/environment/2023/jul/05/project-sea-women-diving-for-plastic-to-save-jordan-coral-reefs?CMP=share_btn_link