9/10/2023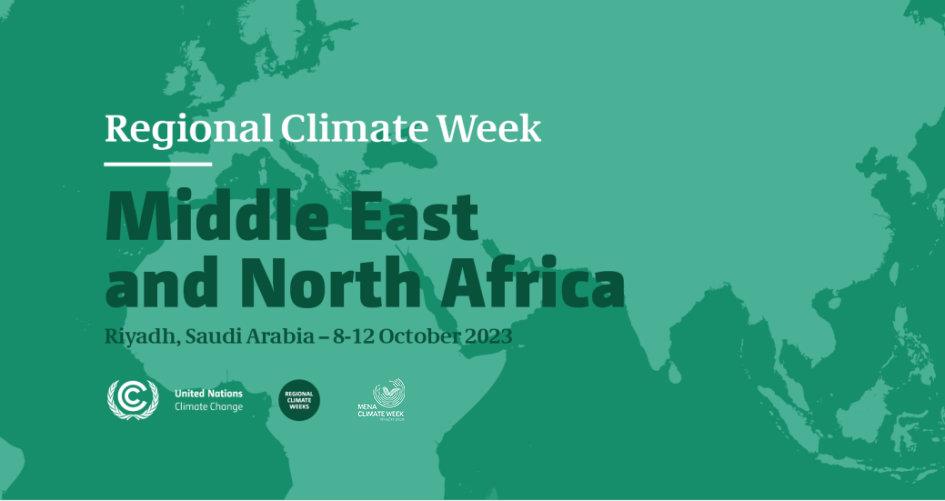 Saudi Arabia is hosting Middle East and North Africa Climate Week (October 8-12), a conference that brings together experts and policymakers from the climate field and provides the Kingdom an opportunity to highlight its energy transition efforts.
Widely touted as one of the most significant events taking place ahead of the UN Climate Change Conference, or COP28, this November in Dubai, MENA Climate Week will allow officials, activists and scientists to discuss ways to mitigate the effects of global warming.
The Riyadh-hosted event, held in collaboration with the UN Framework Convention on Climate Change, will also offer Saudi Arabia a chance to show how it is leading the region's green transition with programs like the Saudi Green Initiative and the adoption of renewables.
The UNFCCC is tasked with supporting the global response to the threat of climate change. The week will take place in collaboration with the UN Development Programme, UN Environment Programme, and the World Bank.
Partners based in the MENA region include the International Renewable Energy Agency, Islamic Development Bank, the League of Arab States secretariat, and the UN Economic and Social Commission for Western Asia.
Saudi Arabia's Ministry of Energy said in a recent statement that MENA Climate Week will position Saudi Arabia at the forefront of the climate debate, allowing it to help set the narrative for COP28 and shape forthcoming negotiations on emissions targets.
MENA Climate Week will feature a packed agenda of regional and
nternational events, meetings and exhibitions, along with several cultural activities.
FASTFACTS
The Middle East and North Africa Climate Week 2023 will be held in Riyadh, Saudi Arabia, on October 8-12.
Regional climate weeks aim to inspire people to become part of the momentum created by the Paris Agreement.
They are a collaborative platform where governments and organizations come together to address climate issues.
During the week, Saudi Arabia will use key discussions to promote its circular carbon economy approach and to identify potential partnerships with organizations and countries to mitigate climate challenges.
A circular carbon economy is a closed loop system for managing and reducing emissions involving four "Rs": reduce, reuse, recycle, and remove.
The Paris Agreement is an international treaty on climate change that was adopted in 2015 and compels signatories to work toward limiting global temperature increases to no more than 1.5 C above pre-industrial levels.
The week will also showcase Saudi Arabia's progress on reducing greenhouse gas emissions, and the different initiatives the Kingdom has adopted to achieve its net zero goals by 2060.
MENA Climate Week will focus on three main pillars: transformation, inclusion, and solutions.
The transformation pillar emphasizes the need to change the way societies live and work and how their economies function in order to mitigate climate risks. The Gulf states have already understood the necessity of change and are acting toward a greener future.
Inclusion means promoting cooperative approaches that leave nobody behind in this transformation — be they public, private, or civil society.
The first day of MENA Climate Week featured an opening ceremony, followed by a ministerial panel discussion under the theme "Advancing inclusivity and circularity for just and equitable energy transitions."
Also on the first day, a second ministerial panel handled the subject of "Inclusive finance and economic diversification toward the goals of the Paris Agreement," while the third was titled "Towards a global goal on adaptation that adapts to a 1.5 degree world."
One of the most important events taking place today, on the second day of MENA Climate Week, is the League of Arab States Roundtable, which will discuss expectations of COP28. (Arab News)
http://www.afedmag.com/english/NewsDetails.aspx?id=7090